Martin O'Neill: Sunderland manager did not see sack coming

By Phil McNulty
Chief football writer
Last updated on .From the section Football465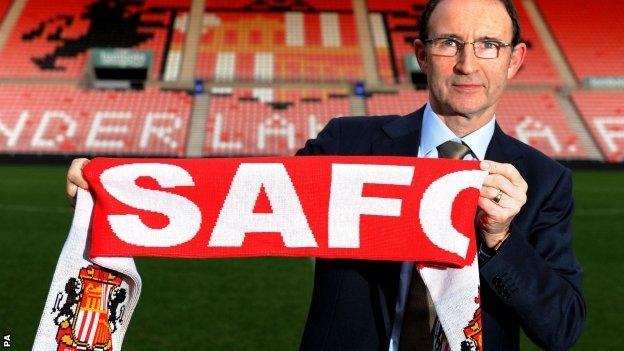 Martin O'Neill did not give the impression of a manager bracing himself for the sack as he spoke of Sunderland's "steely determination" to avoid relegation after losing to Manchester United.
He clutched at a few straws from Sunderland's latest defeat at the Stadium of Light that left them only one point off the Premier League's bottom three, having played a game more than his former club and relegation rivals Aston Villa.
While recognising the serious nature of Sunderland's situation, the 61-year-old Northern Irishman - who arrived on Wearside in December 2011 to a hero's welcome when he succeeded Steve Bruce - said: "What is it - the half-full or the half-empty glass? I'm even going to the three-quarters full."
The glass, at least for O'Neill, was empty.
In his programme notes, Sunderland chairman Ellis Short appeared ready to hope O'Neill could somehow push the Black Cats over the line to safety before reviewing a dismal season.
But it seems Robin van Persie's deflected effort changed all that. It left Sunderland without a win and only three points from their last eight games.
It appears to have persuaded Short to sack O'Neill after 66 matches in charge in a move that was a shock in all contexts, not least in its timing.
Firing a manager of O'Neill's experience is not a decision Short would have taken lightly or without the greatest of consideration. Taking it with only seven games left suggests the size of the crisis threatening to engulf Sunderland has reached the boardroom as well as the pitch.
It is a high-risk strategy, but one Short clearly feels he has been forced to take. Sunderland are on the edge of the relegation places and have an unforgiving final set of fixtures.
And, given the fate that befell Wolves last season when they sacked Mick McCarthy and did not have a replacement ready to come through the door, it must be assumed Short's thoughts on O'Neill's successor will have crystallised long before he made this huge call.
Sunderland and Short will know the size of this gamble. They could have trusted to O'Neill's years in the game a plan to navigate a path out of trouble - but have self-evidently decided the greater risk lay in sticking with him.
If Sunderland go down after taking this decision then it is inevitable plenty of blame will be dropped at the boardroom door. Some will call it brave, others reckless, but Short felt he had no other option.
How ironic, as it so often is in football, that Sunderland dispensed with O'Neill on the day his predecessor Bruce took another step towards taking Hull City back into the Premier League with victory at Huddersfield Town, increasing the possibility of passing his former club on their way down.
For O'Neill, a man fiercely proud of his achievements at clubs such as Leicester City, Celtic and Aston Villa, this will be one of the most painful moments of his long career. He had followed Sunderland as a youngster, fired by the deeds of their great Irish centre-half Charlie Hurley, and had a connection with those who wanted to restore success to this corner of the North East.
O'Neill will also, no doubt, have wanted to make up for the unsatisfactory end to his time at Aston Villa when he resigned just days before the start of the 2010-2011 season.
With his trademark frenetic touchline presence he brought instant results, but his time at Sunderland has never quite recovered from the blow to confidence and expectation inflicted in last season's timid FA Cup quarter-final replay loss at home to Everton. It seemed the wind was removed from his and Sunderland's sails and never returned.
The man who won a reputation as a man-manager par excellence - but who also had voices in the opposition camp suggesting he was not quite the miracle worker his followers made out - could not fire up Sunderland. Had the magic touch, which some felt he possessed, gone?
Short backed him with £24m in the summer to sign Scotland striker Steven Fletcher and England winger Adam Johnson. Fletcher has done his best in a limited side but Johnson has been a major disappointment.
O'Neill was given another £5m in January to sign Swansea City's Danny Graham but the tide has not turned and the injuries that ruled out Fletcher and Lee Cattermole for the rest of the season added ill-fortune to poor form.
The combination has proved fatal.
And as O'Neill packs his bags and prepares to leave the Stadium of Light, there will inevitably be questions about whether he will ever return to management at elite level.
Once touted as a potential successor to Sir Alex Ferguson at Manchester United, linked with Liverpool on several occasions, and put forward as a potential England manager, O'Neill is now one of British management's elder statesmen and his sacking will hurt him badly.
Sunderland and Short have decided to go in another direction. They must hope, after taking a decision of such significance, that the direction does not take them towards the Championship.