Frank McAvennie - the Team Talk XI
Last updated on .From the section Football10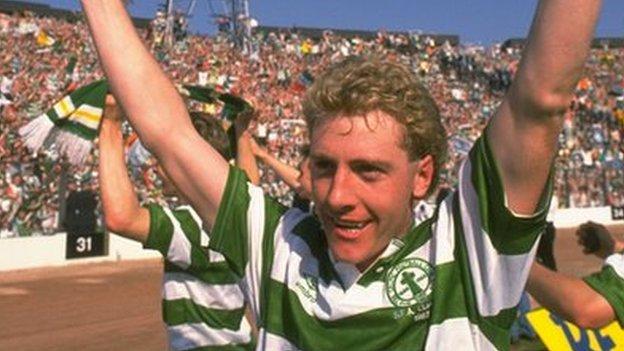 Former Celtic and West Ham striker Frank McAvennie picks his Sportsound Team Talk XI, based on his playing experiences at club and international level.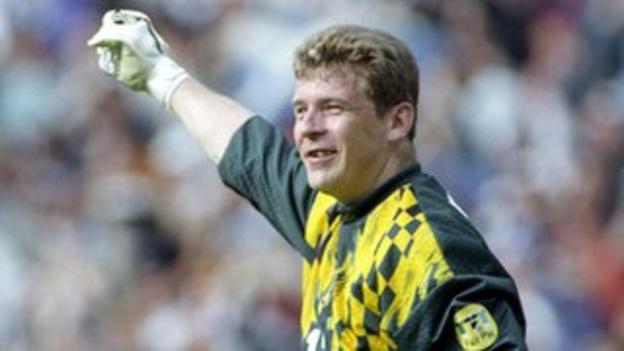 I played with Andy Goram at Scotland and I rated him right up there with Peter Schmeichel and I thought he was different class.
His reflexes were brilliant and, to be fair, he had a nightmare when he first went to Rangers. He was superb as a keeper and, rating him up there with Schmeichel, that's good enough to be my number one.
Pat Bonner and Phil Parks - down at West Ham - were magnificent keepers but Goram gets the nod.
Right back - Ray Stewart
Ray was different class; he was a magnificent defender and he took the penalties. He worked really well across the back four at West Ham and was hard in the tackle. He could hit a ball 40 or 50 yards; he could spray passes. I couldn't really understand him! He was from up Perth way and I was the translator for him.
Central defence - Alan Hansen & Alvin Martin
I've gone for two completely different types. One, I thought was the best player in Europe at one point and was gutted he didn't make the Mexico 86 World Cup. I don't know why Alan wasn't included as he was so good at Liverpool. He was probably one of the hardest players I ever played against. Not hard as in tackling but difficult.
He was so good at reading the game and was comfortable with the ball at his feet. Alvin was my captain down at West Ham and he was a magnificent player.
He'll go that extra mile for you. He didn't like wearing shin guards but he had to; his socks were always down and he never pulled out of a tackle.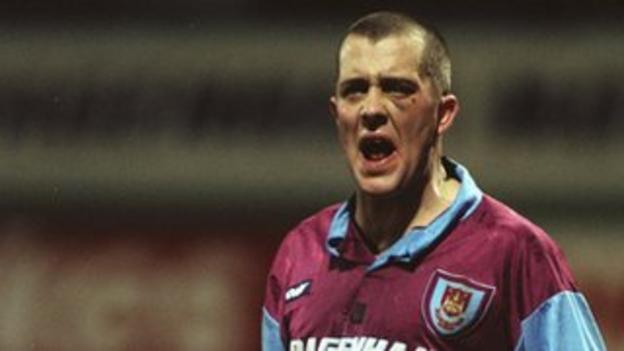 Left back - Julian Dicks
A hard man but also what a player. He could spray passes with his left foot and he didn't suffer fools gladly! He would play to the fans. Me and him were always at the back at training because we didn't like it and once jumped on the back of a milk float when the squad were all out on a six-mile run.
Midfield - Left Davie Cooper
Coop was magnificent: an old-fashioned winger who would get the ball down and go past people. He was very talented but very low-key with it. He was up there with some of the greats.
Central midfield - Graeme Souness (captain)
He could really look after himself. Every one of the players I'm picking can play, but they can also put a tackle in. They can all roll up their sleeves when needed. Off the park he was a lovely guy. He asked me to sign for Rangers, which was a bit off the cuff, but I'm a Glasgow boy and my family would've been hurt. But apart from that, I'm a Celtic supporter, why would I want to play for Rangers?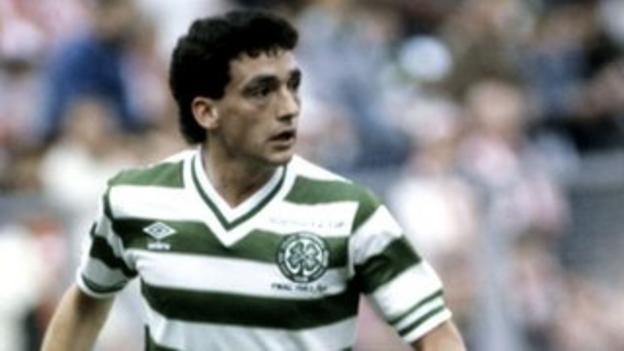 Central midfield - Paul McStay
The Maestro was a magnificent player. If he hadn't remained at Celtic then he would've been one of the greats and the world would've known more of Paul McStay.
He led by example on the pitch and wasn't a shouter or a screamer. But he could put his foot in and he was silky. McStay and Souness would complement each other.
Right midfield - Alan Devonshire
Alan at West Ham was up there with the best. He could play on the left or right and was different class. He was out for two years and when I played with him I honestly thought he was probably the best player I'd played with.
Forward - Kenny Dalglish
There's no way I could have two strikers without having Kenny and he was just magnificent, world class. He was THE man up front to lead the line.
Forward - Tony Cottee
As an out and out finisher, Kenny would've supplied him with so many chances and Tony didn't miss. He was the best out and out finisher and scored 56 goals in one season.
Manager - John Lyall
It would be a toss up between John Lyall and Billy McNeill. Billy was my idol but I would have to go for John because he was so far ahead of his time: diamond formation and playing in the hole; playing three at the back. He just went against the norm.