Bellamy focused on making Cardiff history, says boss Malky Mackay
Last updated on .From the section Football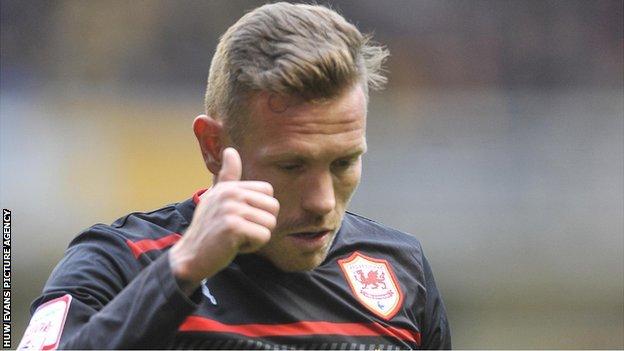 Malky Mackay says striker Craig Bellamy is determined to see Cardiff City into the Premier League and seal a place in history for his home club.
Cardiff lead the Championship by seven points with nine games remaining.
"It's obviously a special thing for him," said Cardiff manager Mackay.
"One of the reasons he came back in the first place three seasons ago was to do that and have that little bit of history attached to him helping that happen in his home-town team."
Cardiff's position was strengthened on Friday after third-placed Watford were held 3-3 at home by Burnley thanks to a last-minute goal from Wales striker Sam Vokes, while fourth-placed Crystal Palace lost 4-0 at home to Birmingham City.
Those results mean that Cardiff - who also have games in hand on their closest rivals - now need 14 points from their last nine games to clinch promotion to the top flight.
Mackay believes that Bellamy, 33, is in good shape both physically and mentally for Cardiff's run-in and has shown no ill-effects of playing two games for Wales last week against Scotland and Croatia.
After the international break, Cardiff restart their league campaign with a trip to Peterborough on Saturday, then face Blackburn at home on Easter Monday.
"He's [Bellamy] come back fine, he's in good working order. We'll assess him in terms of what we do with him over the weekend," Mackay added.
"He played four games in 10 days for me at Christmas time and that dispelled that rumour [that Bellamy's historic knee problems mean he is unable to play regularly].
"The lad is someone who keeps himself in great working order; we have managed him - I would suggest - as well as he's been managed in his whole career in terms of the load that we put on him.
"He's passionate for Cardiff, he's passionate for his country and that's pretty well known now."
After spending the 2010-11 season with Cardiff on-loan from Manchester City, Bellamy signed permanently for his home club on a free transfer from Liverpool in August 2012.
"I think this time, certainly for him, he's in a good place in his mind when he's at the football club," said Mackay.
"He's not fighting anything, he's not railing against certain things that are going on here or people here and that's helping him focus just on his football, which makes a big, big difference.
"The influence he'll have will be the influence that he's had all season in terms of the stature of the lad and the way in which he is an ultimate professional every day in here.
"He trains to a high standard, he expects high standards.
"We had a good chat on day one about what I expect from him and what he expected of being here, what he can expect from me, and it's something we've stuck to.
"I think he's warmed to the fact that the standards at the club were high to start with.
"When he walked in the door we had things in a working order that he was used to.
"But also things are slightly different for him now in terms of him being seen as an older professional at a football club, where people look up to him, younger players look up to him and that's probably new for him.
"The clubs he's been to it's really 'kill or be killed'. He's been at top clubs where there are top players who really get on with it themselves.
"But now he's at a club where there's younger players looking up to him and they look to him for advice, and probably for the first time in his career he's been seen as someone who has to go and put their arm round somebody.
"If you'd asked that five years ago, they'd have wondered if he had a golf club in his hand!
"He's been exceptional on and off the pitch for the club and he's got a lot of respect for the people that are coaching him, the people that are supporting him here.
"That's important and it's one of the reasons he came back to the football club.
"To be fair he's one of five or six I've got in the dressing-room that are like that.
"I'm lucky that we've got certain players in there who have been there, seen it, done it in terms of had experiences of winning things, had experience of international football and been in situations like this before."
Cardiff face four games in 11 days and Mackay is unhappy that most of their promotion rivals have at least an extra day's rest between games over the Easter weekend, with only Nottingham Forest also having to play Saturday and Monday.
"Certainly it's a busy period," said Mackay.
"I note that we play Saturday and Monday for some reason when there's a couple of clubs playing Friday and Tuesday, which I find bizarre considering it is this weekend where if we have to play two games in three days then everybody should do that.