Wojciech Szczesny's loss of form is 'normal', says Arsene Wenger
Last updated on .From the section Football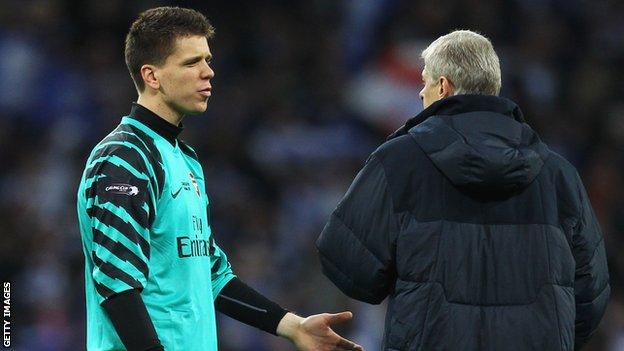 Arsene Wenger believes Wojciech Szczesny's loss of form is a "normal process" and has drawn parallels with the careers of ex-Arsenal goalkeepers Jens Lehmann and David Seaman.
Szczesny, 22, has been replaced by Lukasz Fabianski for Arsenal's last two matches but is in the squad for Saturday's visit of Reading.
"What is happening is a normal process of any career," said Wenger.
"Lehmann and Seaman had their blips and periods where they were less good."
Poland international Szczesny, who was signed from Legia Warsaw in 2006, was dropped for the second leg of Arsenal's Champions League tie with Bayern Munich and then the 2-0 Premier League win at Swansea.
He has since had to apologise to Wenger after his father accused the Gunners manager of using his son as a "scapegoat" for recent defeats.
"I haven't spoken to him (about his father's comments), but I believe he responded very well. There is a not a lot more to say," said Wenger.
"We are in a competitive world - he has played 100 games for this club and at his age that is absolutely fantastic.
"For the rest, we have ups and downs in our form and we have to fight against that.
"Wojciech has a great future. He is a very young goalkeeper. You do not find very many goalkeepers at his age who have the experience he has already, but he lives in a world where competition exists."
Arsenal captain Thomas Vermaelen was also dropped for the matches against Bayern and Swansea, with Wenger preferring the pairing of Laurent Koscielny and Per Mertesacker after a derby defeat to Tottenham.
"I am fighting to win my place back, and nothing will change my mentality or the way I work - I will give everything every day, as I have throughout my career," said Belgium international Vermaelen.
"It is just something that happens in football, especially when you play for a big club.
"I always want to play, of course, but the boss has big decisions to make. It worked on both of those occasions, and each time I was delighted that we won."