Dunfermline: Andy Barrowman describes redundancy experience
Last updated on .From the section Football22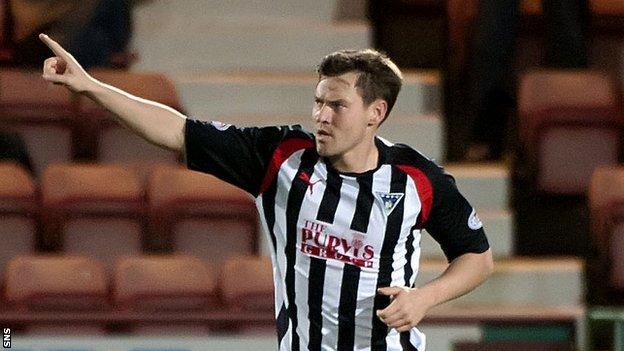 Striker Andy Barrowman faces an uncertain future after being named among the Dunfermline first-team players made redundant.
"It wasn't a pleasant day," Barrowman told BBC Scotland.
"Basically, I'm looking at three months without a wage. I can't sign for anyone until 9 June."
Accountants PKF have taken control of the club following Dunfermline's petition at the Court of Session in Edinburgh, with an 11 April date set to determine whether administration will be granted.
Barrowman, Jordan McMillan and Joe Cardle confirmed they were among those to have been made redundant.
Paul Gallacher, Andy Kirk, Andy Dowie and Stephen Jordan are also thought to have left East End Park.
Manager Jim Jefferies has agreed to stay on until the end of the season but on a reduced salary.
Barrowman said the situation at the Fife club had been fraught.
"We had the game on Wednesday night and we were told before the game that we had to report at 4 o'clock to the stadium," said the forward.
"There was a bit of a long wait and the administrator Bryan Jackson addressed us all as a group: the first-team squad along with all the youth players as well.
"Then a list was read out and we had to go to a separate room and we were told our fate.
"We knew that the list wasn't good news and the names on it were going to be made redundant.
"We've been told by Fraser Wishart at the PFA that it's virtually impossible (to find a new club before 31 March deadline) because there's a lot of red tape involved.
"It first has to go to the SFA and then they have to send it off to Fifa. We have to have the redundancy letter that we got yesterday along with it.
"Fraser's advice to us is that it just can't be done. If boys have got a chance of getting a club then he said 'go for it' but it's very unlikely.
"The SFA would be willing to give us special dispensation but it's the Fifa side of it we're waiting to hear back about.
"We're sitting by the phone, waiting on Fraser confirming whether they'll give us that special dispensation.
"I've got my head screwed on and I saw this day coming for a number of weeks and have been making provision if the inevitable did come. So, I can get by but it's a bit of a dilemma whether I go and get another job.
"Basically, I can't play football. Which is all I've done since I left school at the age of 16."