Rio Ferdinand shocked at claims England fans sang racist songs
Last updated on .From the section Football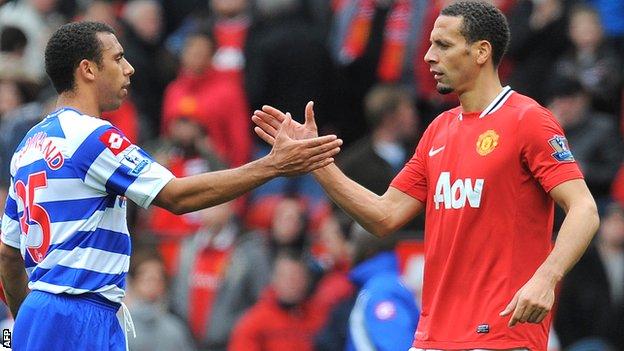 Rio Ferdinand has expressed shock at alleged racist chanting directed at him and brother Anton by England supporters during the
An offensive song was said to be aimed at Manchester United defender Rio, who pulled out of the England squad, and QPR centre-back Anton.
"You expect and accept banter from fans on the terraces as it's part of what makes the game great," Rio tweeted.
"But racism is not banter and from your own fans - WOW."
However, the 34-year-old former West Ham and Leeds player added: "Always a small minority who ruin it for others."
He later wrote: "Let's not jump to conclusions and assume though, as it might just have been banter. We'll see after the investigation."
Ferdinand's comments came after the football anti-racism network to world governing body Fifa on Thursday. Fare did not have its own observers at the match on Friday, 22 March and said it had pulled together evidence, including "media comment".
The claims that some England fans sang a song suggesting the brothers should be burned on a bonfire were first reported in the Daily Mirror on Wednesday.
It has been claimed the song had racist overtones because by former England captain John Terry.
Fare executive director Piara Power said he felt the song had an "undercurrent of race" but added it was "certainly an usual report".
In a statement the Football Association said its security officers monitored the English supporters in the stadium and had access to recorded video footage.
"While we have no reason to dispute the media reports which are without doubt made for the right reasons of fighting racism, at this time we have not found any recorded evidence of the specific discriminatory chanting referring to Rio and Anton Ferdinand."
Ferdinand was for the first time since 2011, but withdrew stating that he had a "pre-planned programme".
It was then reported that he would be to work as a television pundit covering the game in San Marino.
In back-to-back World Cup qualifiers, England thrashed San Marino in Serraville before at Group H leaders Montenegro.
England manager Roy Hodgson said after the San Marino game that he had heard the abuse, adding: "I'm not deaf. But I've absolutely no comment to make on it."
On Friday, Manchester United manager Sir Alex Ferguson was asked if he was worried that Ferdinand could become a target of fans' chants. He said: "That's modern society I'm afraid. We see a lot of that. I don't think we can change that."
Lord Ouseley, chairman of football's anti-racism campaign Kick It Out, told BBC Radio 5 live the FA should "take a stance on this".
"I have already contacted the chairman of the Football Association and said this has to be looked at, investigated and dealt with," he said.
"Do you want to have an army of fans who call themselves the England fans travelling abroad, being abusive to their own players?"
Fare filed the complaint on Thursday as European football's governing body Uefa announced a plan to tackle racism. in which it encouraged referees to halt matches if they were aware of any racism.