David Beckham: PSG chief Nasser Al-Khelaifi wants him to stay
Last updated on .From the section Football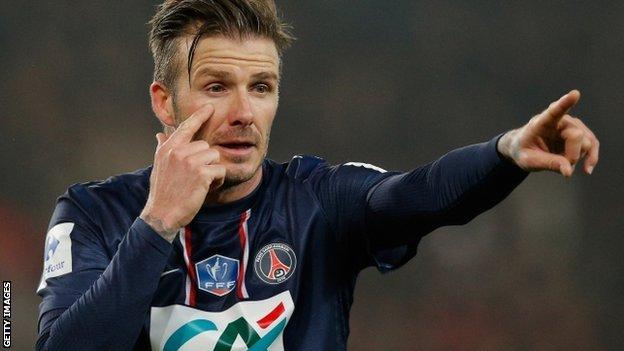 Paris St-Germain president Nasser Al-Khelaifi has confirmed he wants David Beckham to extend his stay at the club.
"We will talk with him. Whatever his decision, we support David," Al-Khelaifi told L'Equipe.
"He is very happy in Paris. Frankly, we want to keep him with us next season."
Beckham has started once and made four substitute appearances since signing in January, while PSG are top of Ligue 1 and through to the Champions League quarter-finals against Barcelona.
"Recruiting David was one of my best decisions," added Al-Khelaifi. "As a man, player, ambassador, he is exceptional. It creates something in this group. Everyone loves it."
The former Manchester United, Real Madrid, Los Angeles Galaxy and AC Milan midfielder, 37, admits he is tempted to extend his stay in the French capital.
The ex-England captain had 11 other offers when he left Los Angeles but chose to join PSG on a five-month deal.
"Who wouldn't want to stay at a place like this? It's always nice to be wanted." Beckham told Le Parisien after playing 18 minutes as a second-half substitute in Friday's 1-0 victory over Montpellier.
Of his future, Beckham added: "We'll see. It's very special but I'm not getting any younger so we'll see how I feel at the end of the season.
"Now our focus will turn to Barcelona and I think everybody's excited about the game.
"You always get excited about coming up against the best players and teams.
"It's important that we concentrate on our own game and not worry about their game too much."
PSG coach Carlo Ancelotti said on Thursday: "I'm totally for David Beckham extending his contract."
Beckham, who is donating his £1m salary to charity, has made five appearances in Ligue 1 as a holding midfielder.
PSG have spent more than £200m in the last 18 months and have a squad that includes Zlatan Ibrahimovic, Thiago Silva, Lucas Moura and Ezequiel Lavezzi.