Wigan's Roberto Martinez says McManaman has unfairly suffered
Last updated on .From the section Football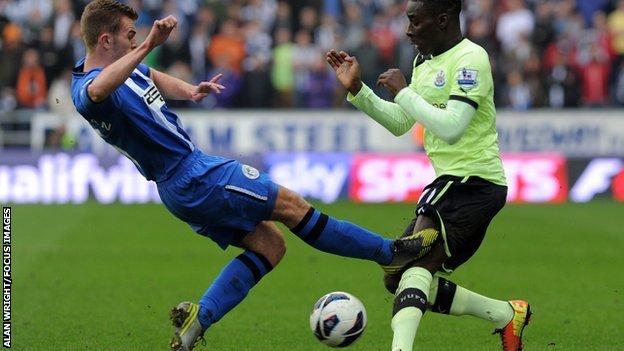 Wigan boss Roberto Martinez says Callum McManaman has "unfairly suffered" in the aftermath of his challenge on Newcastle's Massadio Haidara.
Haidara suffered bone bruising and soft tissue damage in his left leg.
"We've been talking too much about it and it's a bit unfair on a young man to have to suffer that," said Martinez.
"I think we're taking things out of context here. The whole incident has been a bit of an argument about the refereeing in the game. It was a challenge with no real intent. It was an unfortunate incident that happens on a football pitch."
Mark Halsey was the referee at the DW Stadium and did not see the incident, but one of his assistants did and deemed McManaman's challenge as fair. Because it was seen by an official, the Football Association did not retrospectively punish the Latics forward.
Newcastle managing director Derek Llambias responded to the FA's decision by stating that its disciplinary process was "not fit for purpose".
McManaman, 21, was also confronted by Newcastle assistant boss John Carver as the players made their way into the changing rooms at half-time. Both Carver and Wigan coach Graham Barrow were charged by the FA for a fracas related to the incident.
Martinez said he was confident McManaman would not adversely be affected by the furore that followed in the days after the incident.
"I did have concerns straight away," added the the Wigan manager.
"All of a sudden you are the centre of a nationwide debate where you've done nothing wrong in terms of your intent. You've found yourself in that position.
"But Callum has been growing into the footballer he is now for the last four years so he hasn't been someone who all of a sudden appears.
"He's had a very good development at the club. He's been out on loan and I think he's had enough experiences to know how to cope with anything the Premier League is going to throw at him."
Meanwhile, Newcastle manager Alan Pardew believes the Premier League should employ professional assistant referees in the wake of the incident.
"I feel particularly aggrieved about the fact that we haven't got professional linesmen in the Premier League," said Pardew.
"With the money and the finance we have, they should be a team.
"I would be very interested to know how often Mark Halsey, the referee, has worked with the two linesmen on the day because I think they should have a team that travels around together and works together and therefore can trust each other 100% because that's where it fell down."