Leeds United: International Investment Bank buy 10% of club
Last updated on .From the section Football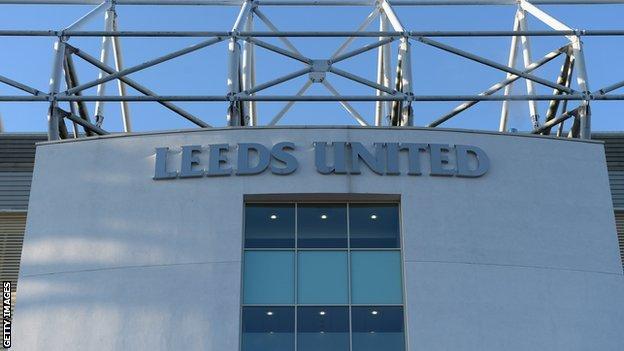 Leeds United owners GFH Capital have sold 10% of the club to the Bahrain-based International Investment Bank.
The Dubai-based private equity group
Last week they reiterated that they were looking to sell part of their share in the club but ruled out selling it in its entirety.
Leeds are currently 10th in the Championship, seven points outside of the play-offs with eight games to play.
Deputy chief executive of GFH Capital David Haigh said: "The introduction of IIB is in keeping with what have always been our aims for the successful, sustainable and long-term ownership of Leeds.
"We believe that a consortium of like-minded investors provides the best ownership model for a club which belongs among the elite of English football clubs and global sporting brands.
"It is our aim to provide the finance and the stability to enable the club to complete that journey as soon as possible."
IIB's chief executive Aabed Al-Zeera will join the board of Leeds City Holdings Limited.
He said: "We are delighted to become investors in Leeds United and would like to thank GFH Capital for facilitating this for us."
On Tuesday, it was reported that the Bahrain Stock Exchange was seeking clarification on the position of the club after GFH Capital's parent company, Bahrain-based GFH, had declared its intention to sell the club outright, thus contradicting the statement from GFH Capital.