Coventry City: Short-term agreement reached over Ricoh
Last updated on .From the section Football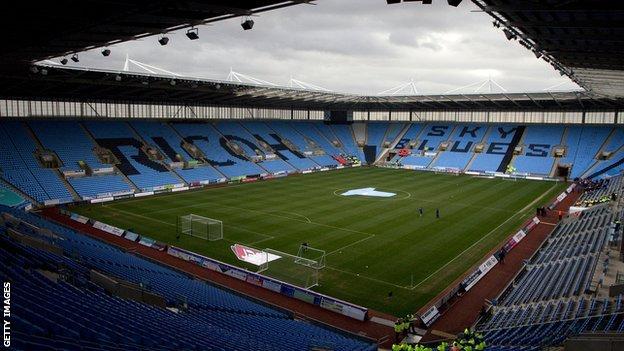 Coventry City will play their final three scheduled League One games of the season at the Ricoh Arena after the agreement of a short-term deal.
Paul Appleton, joint administrator for Coventry City FC Ltd and Arena Coventry Ltd, made the announcement in a short statement on Thursday morning.
City have been locked in a year-long rent row with ACL, their landlords.
"We apologise profusely to fans about the confusion. We are delighted this has now been resolved," said the club.
"We can now look forward to playing current league leaders Doncaster on Friday 29 March in the hope of doing the double over them," added the club statement.
"Moving forward, we hope that we can continue a constructive dialogue with ACL with the aim of securing a sustainable future for the club at the Ricoh Arena."
Reports had suggested that Coventry might try to play home games away from the Ricoh Arena - and the club took the decision to empty their offices and shop on Friday afternoon.
But their first concern is awaiting official ratification of the automatic 10-point deduction that awaits them from the Football League after being ruled to be "in administration" following Tuesday's High Court hearing in London.
The hearing, originally scheduled for last Friday, was adjourned to allow the respective legal teams to analyse the repercussions of Coventry City Football Club Ltd, the non-operating subsidiary company that held the lease and licence for the Ricoh Arena, going into administration last Thursday evening.
The League One club's owners Sisu claim that Coventry City Football Club Ltd is just a property subsidiary, with no assets of its own. But the court hearing decided that it is this subsidiary which owns the Golden Share, guaranteeing membership of the Football League, and that effectively means that they now cannot avoid being docked the statutory 10 points.
Coventry currently stand just five points adrift of the League One play-off places, but will drop four places to 14th, once the 10-point penalty has been applied.
That would immediately halt their bid to return to the Championship at the first attempt, a year on from relegation.
"The position is the same as it was last Friday," said Appleton, in a statement issued on Wednesday. "Coventry City Football Club Ltd is in administration. Coventry City FC (Holdings) Limited is not and will continue to run as normal under its existing management.
"As for the possibility of a 10-point deduction, that all depends on who holds the Golden Share which allows the Club to play in the Football League.
"CCFC (Holdings) Ltd believe they hold the Golden Share and, as they are not in Administration, should not be deducted 10 points.
"The Football League believe the Golden Share rests with CCFC Ltd which would potentially mean points being docked.
"I am continuing my investigation into the matter and, as such, cannot yet comment."