Passing & possession not helping Aston Villa, says Robbie Savage
Last updated on .From the section Football

In his regular BBC Sport column on football tactics, Robbie Savage takes a closer look at Aston Villa's defeat by Liverpool.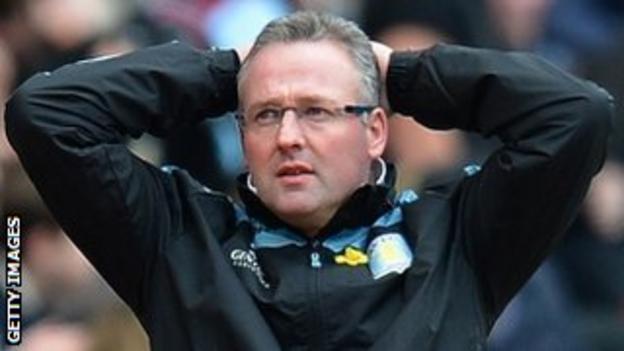 In many ways, Villa's performance against the Reds summed up their season, and you can see why they are in the bottom three and in a relegation battle.
When things were going well for Paul Lambert's side in the first-half and they could play to their strengths on the counter-attack, they looked dangerous.
But some poor individual decisions let them down defensively and, when Liverpool found a way to stop them breaking forward quickly, Villa looked very poor.
QUICK ATTACKS SERVE VILLA WELL

Villa rely on getting the ball up front quickly and then using the pace of their front three - Gabriel Agbonlahor, Christian Benteke and Andreas Weimann.
If they achieve that and are able to isolate defenders against that trio when they attack on the break, then they can get behind defences and create chances.
Liverpool's approach allowed Villa to do that in the first 45 minutes. The Reds pressed Villa high up the pitch and took risks in terms of committing men forward.
That meant Villa were a threat on the counter-attack, with the perfect example being their goal.
Ashley Westwood's long ball found Gabriel Agbonlahor and, with Liverpool's defence on the back-foot, Benteke found space for a great finish.
But after the break, when it was Villa chasing the game, Liverpool dropped men deep and set up their defence properly to close up all those spaces.
Villa had nowhere to run in behind, which was a big problem because they have not got the creativity in their midfield to break teams down through intricate play.
They do not get other players forward fast enough to support the three men in front of them either.
Barry Bannan and Ashley Westwood are too lightweight for me, and were operating more like two more defensive midfielders alongside Yacouba Sylla.
Lambert's side actually had more possession and played more passes in the second half than they did in the first.
But, for long spells after the break, they did not have the same penetration they managed in the first half when they saw less of the ball but could counter-attack quickly.
BAD DECISIONS MAKE FOR SOME DISASTROUS DEFENDING
Sunday's game against Liverpool was not the first time this season that things have gone very wrong, very quickly for Villa.
They have dropped 21 points from winning positions, and only Southampton [27] and Reading [23] have dropped more.
Too many times that has been down to individual errors in defence, such as the dreadful decision by Nathan Baker to dive in on Luis Suarez for Liverpool's penalty that put the Reds 2-1 up.
But those sort of mistakes are only part of the problem caused by the lack of experienced heads in Villa's team.
Look at Liverpool's equaliser, which came 102 seconds into the second-half.
This time it was Villa who were caught with men forward, which was ridiculous so soon after the restart.
They were ahead and, in that situation, they should just have been thinking about keeping things tight for the first 10 minutes or so and trying to turn Liverpool around to keep them at arm's length.
In other words, Villa should have just put the ball in the channels and let their front three run after it while they set themselves up solidly behind them.
Experience tells you to do that but Villa didn't, and they got caught.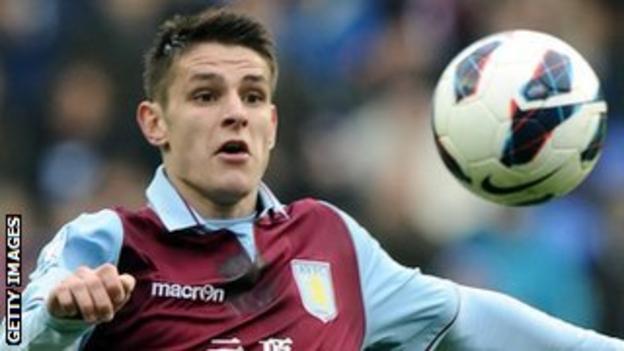 Bannan is 23, and Sylla and Westwood are both 22. Youth means exuberance and energy but it also means players make bad decisions, whether it be deciding to run forward or to commit to closing someone down.
For Liverpool's equaliser, Jordan Henderson got in behind Bannan, Sylla and Westwood with his run on to Philippe Coutinho's defence-splitting pass.
Westwood was the closest player trying to get back but all three of them were ahead of the play, when a more experienced player might have seen the danger and dropped off to cover that run from Henderson.
VILLA NOT TOO GOOD TO GO DOWN
Lambert insists that his side are too good to be in the bottom three but there are some key statistics that do not back that view up.
| | Aston Villa | Rank in Premier League |
| --- | --- | --- |
| Total passes | 11,251 | 14th |
| Passing accuracy | 77% | 15th |
| Average possession | 44.64% | 14th |
| Shots for | 347 | 17th |
| Goals scored | 32 | 17th |
| Shots against | 546 | 19th |
| Goals conceded | 58 | 19th |
| Goal difference | -26 | 20th |
| Points dropped from winning positions | 21 | 18th |
Yes, Villa's figures for passing and average possession are comparable with teams who are higher up the table but, as we saw against Liverpool, keeping the ball does not help them open up teams when they attack. In fact the opposite applies.
Villa also give the ball away a lot. They don't score enough goals to see games out and the mistakes they make mean they always look capable of conceding.
It is 20 games in all competitions since their last clean sheet and they still need to make some big improvements defensively if they are to secure their safety in the run-in.
Robbie Savage was speaking to BBC Sport's Chris Bevan.