Dunfermline: Threat to players' jobs concerns Jordan McMillan
Last updated on .From the section Football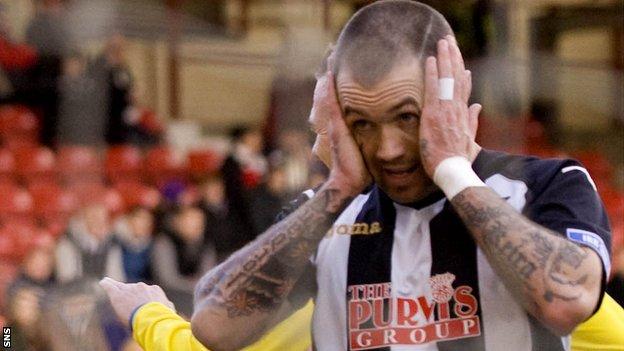 Dunfermline captain Jordan McMillan says the last few months have been "horrible" for Pars players and remains worried some could lose their jobs.
"The best case scenario we're aware of is administration but, again, boys, people and staff could still lose jobs," McMillan told BBC Scotland.
"That's something we don't want to see. We're powerless and just have to get on with the task in hand."
Her Majesty's Revenue and Customs (HMRC) had served a petition for liquidation at the Court of Session over Dunfermline's unpaid tax bill of £134,000, with a deadline of 17:00 GMT on Tuesday.
The club's honorary director, Jim Leishman, revealed that a group of supporters had agreed to cover the costs of the administrators, allowing the process to go ahead.
McMillan added: "It's going to be administration and we'll just have to get on with it as a group, like we have done. It's not been easy but there's nothing else we can do but get on with it.
"It's horrible. It's not just been today, it's been the last four or five months."
At times, the Dunfermline playing squad have had to put up with partial payment of wages.
"It's really hard - boys not getting full wages and stuff," McMillan said. "Boys have got mortgages and houses and whatever else, it's not been easy at all; I'm not going to stand here and lie.
"We go out on the football park every week and try and win football matches for Dunfermline. That'll not change come tomorrow if we play the game."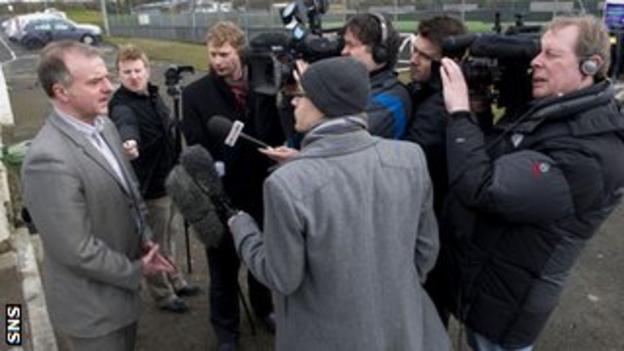 If the administration application is successful, Bryan Jackson of accountants PKF will be appointed as administrator.
That would mean Wednesday's First Division game between Falkirk and Dunfermline at East End Park could go ahead.
Meanwhile, Fraser Wishart, chief executive of the Professional Football Association (PFA) Scotland, insists he will do all within his power to keep any redundancies to a minimum at East End Park.
"We'll be looking to have a meeting with Bryan Jackson to work out a good course of action that hopefully will protect all our players jobs," he said.
"I'm pleased it's Bryan, someone I've worked with many times before and who knows the football game inside out. There is more than one way in dealing with a potential drop in income and the drop in outgoings the club has to get to.
"The first message we have to get out to the administrator and the club is that they ensure any funds that are raised by fans and supporters or donations go directly to pay the players and the other staff's wages.
"We have football regulations and the Scottish Football League has been very strong in the past supporting players who are made redundant in terms of football debt. I'm sure the players will welcome that."
Wishart re-emphasised that going into administration is Dunfermline's most optimistic option in the current circumstances.
He said: "In a strange sort of way it's the best position the club can be in at the moment because liquidation is calamitous for everybody - the club is closed, the creditors get nothing and the players lose their jobs.
"We're in a situation where it's still in grave danger.
"The first point is to get to the end of the season and fulfil the fixtures. At that point, hopefully there'll be enough funds to get there and for somebody to come in and buy this proud club."