Phil Brown to 'resolve' Southend United's Wembley dilemma
By Chris Osborne
BBC East Sport
Last updated on .From the section Football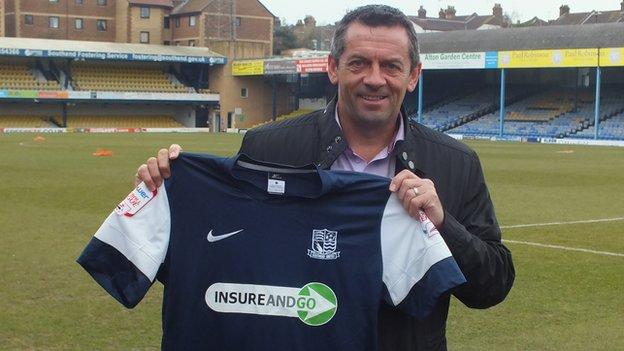 New Southend United boss Phil Brown believes a final decision has still to be taken over who will manage the team in the Johnstone's Paint Trophy final.
The club had said Paul Sturrock, sacked on Sunday, would "lead out" the Shrimpers at Wembley on 7 April.
But Brown, 53, insisted there were "a lot of conversations" to be had.
"Hopefully the situation with regards Wembley will be resolved in the next few days. As far as I'm concerned I'm not even looking at Wembley," he said.
"Strange things do happen in football. It was a subject that was broached with me during conversations regarding my tenure here."
Sturrock was after a run of only one win in their last six League Two games left the side six points adrift of the play-off places.
However, the 56-year-old Scot was told he would take charge of the side to face Crewe at Wembley, even though Brown will have presided over two league fixtures by then.
"It will be resolved, there's no doubt in my mind," said former Hull and Preston boss Brown.
"We are grown men and strange things happen in football. I think we will come to the right decision.
"But as far as I'm concerned my focus is on a strong weekend. We're looking at Bradford [on Friday] first and foremost."
Brown could reignite Southend's promotion bid if he were to secure back-to-back wins against Bradford and Fleetwood over the Easter weekend.
He revealed it was a job that he came close to taking once before, after Hull placed him on gardening leave in March 2010, and he was attracted by the prospect of working in the club's new stadium, which is yet to be given a proposed date of completion.
"I looked at the challenge at the time and thought, coming out of the Premier League, I didn't think I was ready to go into the second division," he said.
"There's a lot of water gone under the bridge since then. But the chairman's ambition was clear on where he wanted to be and hopefully soon the first sod will be cut and construction will be underway, hopefully alongside a promotion bid."
Brown has spent the last 14 months, since his departure from Preston, doing media work, although he came close to taking jobs at and Hartlepool.
"People have an opinion of you, but until you sit down around a table you either thrash that opinion out or you find out what the real guy is all about," he said on his time away from management.
"Hopefully, Ron Martin, the board of directors and the players will find out what the real me is.
"It's a club on the up, not from a footballing perspective at the moment, but if you're looking at the whole package, the chairman has sold the whole idea of Southend United."