Dunfermline: McMillan & Cardle among players made redundant
Last updated on .From the section Football327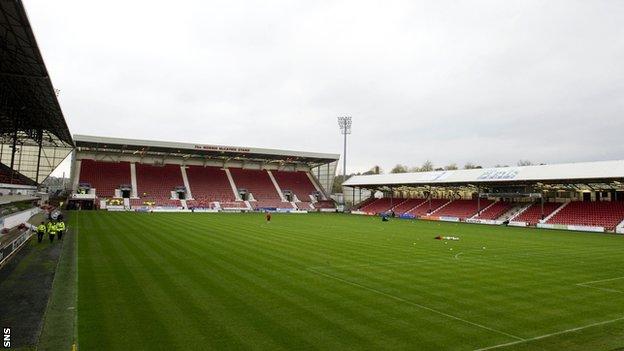 Dunfermline have made their highest-earning players redundant after applying to go into administration to avert being wound up.
Interim administrator Bryan Jackson said talks were continuing but expected eight first-team players and three youth players to lose their jobs.
"We have a problem with the highest earners. We don't have the cash - it's just not there," Jackson said.
Jordan McMillan and Joe Cardle both confirmed they were among the cuts.
Pars captain McMillan said on Twitter: "The news is true I have been made redundant with immediate affect but loved my time at club as captain. Hope boys do well rest of season."
Andrew Barrowman, Paul Gallacher, Andy Kirk, Andy Dowie and Stephen Jordan are also thought to have left East End Park.
Manager Jim Jefferies has agreed to stay on until the end of the season but on a reduced salary.
Accountants PKF have taken control of the finances and operation of the club following Dunfermline's petition at the Court of Session in Edinburgh, with an 11 April date set to determine whether administration will be granted.
Jackson said: "We are still talking to the players and that is still ongoing.
"It's still fluid but it looks as if there will be eight players made redundant and a further three from the under-20 squad.
"There are another two we are still talking to. Again that could change.
"And there are two also on loan [Paddy Boyle and Paul Willis] that unless we can get the clubs they are out on loan to pay the full amount, then they would come off the payroll as well.
"I know people want the names but we are still talking to people."
Her Majesty's Revenue & Customs applied to the courts on Wednesday morning seeking ratification of a winding-up order that was issued last week.
The tax authorities served a petition for liquidation over a tax bill of £134,000, with a deadline of 17:00 GMT on Tuesday.
The Scottish Football League is set to meet early next week to discuss the financial crisis at Dunfermline and possible sanctions.
SFL chief executive David Longmuir said: "The rules of the SFL have always been quite clear in that the board of the SFL treats every case on its merits, as we have done with Gretna, Livingston, Dundee and now another one."
Jackson said earlier that majority shareholder Gavin Masterton has said he is willing to hand over his shares, so that a company voluntary arrangement (CVA) can be entered into.
The court was told that a consortium has expressed an interest in taking over the ailing Fife outfit, while it also emerged that a third party has agreed to provide funding of £100,000 to cover trading, legal and professional costs.
It was presented to the court that Masterton is prepared to transfer his shareholding for the purposes of a CVA, with Lord Hodge saying survival as a going concern would critically depend on such an agreement.
"I understand there has been discussion between those representing the petitioners and the Revenue," said Euan Duthie, counsel for the club's directors.
"I am not able to say what stage those discussions have reached."
Honorary director Jim Leishman revealed that a group of supporters had agreed to cover the costs of the administrators, allowing the process to go ahead.
"They're people that care about Dunfermline and I'm really proud of them," he said.
Most of Dunfermline's debt, thought to be about £8.5m, is owed to Masterton and other directors.
"Despite my concerns regarding events over the past six months the ultimate responsibility stops with myself," said Masterton.
"Over the years the Masterton family have invested several millions of pounds into the club to establish the infrastructure and just under £1m in the current year but this trend unfortunately was not sustainable.
"I want to personally apologise to all who will now be upset and damaged by today's announcement. Money and jobs will inevitably be lost but everything will be done to ensure a rapid return to normality."
Dunfermline Athletic, who were relegated from the Scottish Premier League last season, were formed in 1885 and enjoyed a golden period during the 1960s, winning the Scottish Cup twice and regularly competing in Europe.