England captain Steven Gerrard dismisses Branko Brnovic criticism

By Phil McNulty
Chief football writer, BBC Sport
Last updated on .From the section Football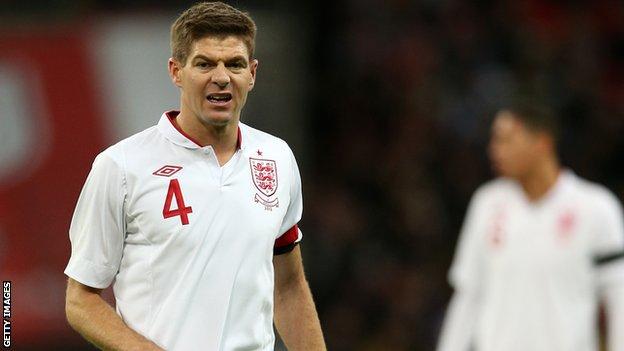 Steven Gerrard has poured scorn on Montenegro coach Branko Brnovic's claims that England are "scared" ahead of Tuesday's World Cup qualifier.
Brnovic labelled England a long-ball side in an outspoken news conference.
He also suggested England were making excuses in advance about the atmosphere and pitch in case they lost in Podgorica's City Stadium.
"For their manager to say the things he's said shows we've got them exactly where we want them," Gerrard said.
"They seem to be more interested in saying things and doing all the talking.
"Talking doesn't win you football matches. Playing well wins you matches.
"I'm not really too interested in what got said in their press conference - or in ours to be honest. I'm more interested in how the lads train and how we play once the whistle goes and the match starts.
"As for saying we are a long-ball team, I think it is important to have a good mix, play the ball well short and have a plan B if you need to go more direct as well and I think this squad has certainly got that."
England manager Roy Hodgson was equally dismissive of Brnovic's outburst as the Montenegro coach whipped up fervour ahead of what is sure to be a hostile atmosphere as the top two sides in Group H face each other.
"I didn't hear the context," Hodgson said. "It has obviously made a big effect on people but I'm terribly sorry to say it has made no effect on me whatsoever.
"It seems to me that sometimes people like to make a comment that may have been more relevant in the past than it was today but we have nothing to defend in that respect.
"We play the football we play. We think it is good football, football we think will help us win matches so I don't really care too much whether people want to label it short ball or long ball.
"What do they actually mean by that? With people like Steven Gerrard, Frank Lampard and Michael Carrick, I have seen them hit magnificent 35-45 metre diagonal passes to change the point of attack.
"Is that what they mean by a long-ball game or do they mean every time we get the ball we kick it as far up the field as we can and run after it? If they mean that they obviously haven't watched us lately."