Yeovil Town: Gary Johnson wants more from his players
Last updated on .From the section Football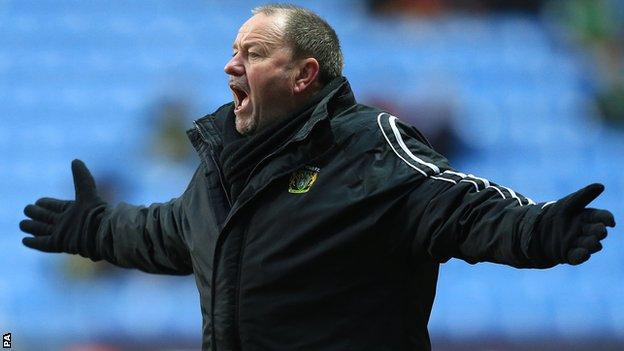 Yeovil boss Gary Johnson has said his players need to go "beyond the call of duty" after their 3-3 draw at Carlisle.
The Glovers led 3-1 at Brunton Park until the 89th minute, before conceding twice to come away with just a point.
"I'm thinking of the fans that have done the trip," Johnson told BBC Somerset. "That's going beyond the call of duty, and we can't get a group of players to do that.
"There's some that do, but some don't - and they are the same ones every week."
Johnson's side would have moved into the League One play-off places had they held on for victory, but instead lie a point outside in seventh.
And, after admitting last week that he would deem missing out on promotion this season as failure, Johnson feels his players are not taking enough responsibility as the season reaches a climax.
"We're putting too much on the line for this group to get them to believe they can get there," the 57-year-old said.
"Me and [assistant manager] Terry Skiverton have got a massive job to do to keep them competitive. Some have got it, but some just aren't competitive enough."
Johnson may look to the loan market to add to his squad before the loan window closes on Thursday, but he says he will not be rushed into making swift decisions on bringing players in.
"There's loads of loans available out there and the reason why is because not many clubs want them.
"It's very difficult to get a loan to give you what you want. A lot of players drift through the game from club to club.
"They might be decent players but [it's] whether they'll go beyond the call of duty, which you need at this stage.
"We'll think very hard and keep pushing. We'll have to see how far we can get."