CAR delay return home from Cape Town
Last updated on .From the section Football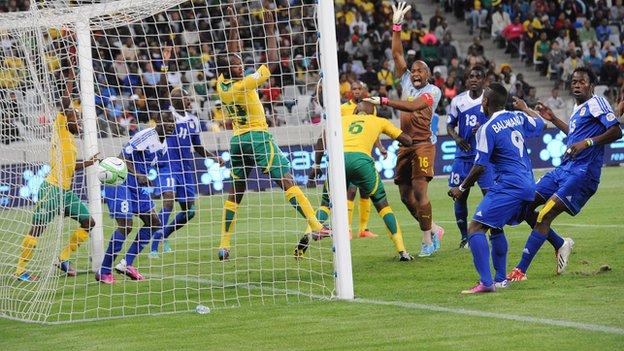 Central African Republic have delayed their return from a World Cup qualifying match in South Africa after rebel forces invaded their home country's capital, Bangui.
Rebel soldiers overthrew CAR President Francois Bozize on Sunday, taking over the palace and forcing him to flee.
The Europe-based players will fly to Paris on Monday, while domestic players head to Douala, Cameroon on Tuesday.
The team were beaten 2-0 by Bafana Bafana in Cape Town on Saturday.
Team manager William Kongo said players usually transferred through western neighbour Cameroon on their way home, but would stay over in Douala for longer than a couple of days to see if it was safe to go home.
The home-based players still wanted to go home, according to Kongo, and had no reservations about returning. They would probably still go back this week, he said.
"It'll take one to two weeks for everything to be OK,'' Kongo told The Associated Press by telephone from Cape Town,
The South African Football Association said it was too early for it to talk to the Confederation of African Football or football's world governing body, Fifa, about whether to move countries' return qualifier in Central African Republic in June.