FA Trophy Final 2013: Wrexham fans enjoy long journey to success
By Aled Williams
BBC Wales Sport
Last updated on .From the section Football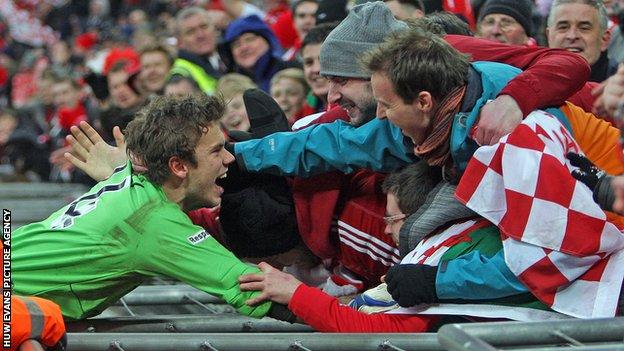 It might have been a bitterly cold day in north London, but Wrexham fans will have left Wembley Stadium on Sunday evening with a warm glow.
Wrexham's past achievements - FA Cup runs and giant killings, a record number of Welsh Cup wins, European adventures and promotions - form part of a rich history which stretches over 149 years.
But it is a history which has not been without turmoil and tears.
Much has been made of Swansea City's transformation from a club on the brink of oblivion to one which has established itself in the Premier League.
But Wrexham too have battled back from adversity which has included ownership wrangles, spells in administration and relegation from the Football League in 2008.
When it mattered, the fans came to the rescue. They protested against previous owners they felt did not have the club's best interest at heart.
They lobbied and campaigned to save and protect their historic Racecourse home and even had to raise funds in a short space of time to pay the players' wages at one stage.
Following a long running saga the Supporters' Trust finally took control in 2011 and player-manager Andy Morrell acknowledges that brought stability to the Dragons.
"It could have been completely different if the fans hadn't stood up and been counted," said Morrell, who played for the club in the Football League during his first spell at the Racecourse.
"They have put a base in, a foundation under the club that has meant the players get paid.
"There's a stability there and that allows us to go and do our stuff."
Wrexham fans had dug deep into their pockets when the club's very existence was in doubt and many of those supporters had to literally dig in just to get to Wembley.
Heavy snow had brought parts of north east Wales to a standstill and fans made an extra special effort to make sure they were present for the club's big day.
An estimated 18,000 managed to make it to the home of English football, hoping to see their side become the first Welsh club to win the FA Trophy.
But where Bangor City and Newport County had previously failed, Wrexham rose to the occasion against another club who are desperate to return to the Football League.
Even after Andy Cook had given Grimsby the lead with 20 minutes remaining, Wrexham displayed the same resilience and determination that their supporters had shown in getting to Wembley.
Kevin Thornton's penalty rescued Wrexham, and were it not for the brilliance of Grimsby keeper James McKeown, the final could well have been settled before the need for extra-time and penalties.
But not even the heroic McKeown could deny Wrexham in the shoot-out and when Johnny Hunt converted the winning penalty it kick-started wild celebrations among the Wrexham faithful.
Their celebrations would have been mixed with a sense of relief.
Relief that they had managed to get to Wembley despite the elements, relief that they had won the shoot-out and relief that the club had survived to experience such an occasion.
Morrell's side could be back at Wembley in May for the Blue Square Bet Premier play-off final.
But despite their memorable day, Wrexham fans will hope that is not the case and that an automatic return to Football League will have been secured already.