Argentina must balance attack and defence before World Cup
Last updated on .From the section Football71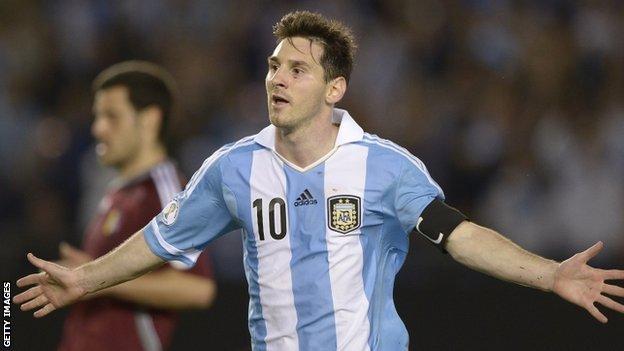 Four years ago, in his competitive debut as coach, Diego Maradona's Argentina won 4-0 at home to Venezuela. Four days later they went down 6-1 away to Bolivia.
The crushing defeat is not hard to explain. Argentina had not planned for the extreme altitude of La Paz, some 3,600 metres above sea level. Maradona had put his faith in motivational slogans, but they were no substitute for adequate preparation.
High up in the Andes, the unacclimatised player loses some 40% of his athletic capacity, his lungs screaming for oxygen that is not present in the rarefied air. Even the goalkeeper is betrayed by the fact that the ball moves more quickly. It is simply not possible for teams to turn up and hope to play their normal game.
Fast forward four years, Argentina have just beaten Venezuela 3-0, and what happens to them in La Paz on Tuesday hardly matters. When Maradona took over in 2008, the team were already down in the dogfight, scrapping for every point to take them to South Africa. This time, with six games still to go, coach Alejandro Sabella's side are already on the verge of qualification.
Early in the campaign, however, it had looked as if the road to Brazil would be bumpy for Argentina. In the second round they lost away to Venezuela. In the third they were held at home to Bolivia.
The turning point came with the entry of Sergio Aguero at half-time in the next game, the difficult trip to Colombia. A 1-0 defeat was transformed into a 2-1 win, the first of six victories and a draw that the side have accumulated. This time, then, a defeat away to Bolivia could be shrugged off as a mere stumble.
But that does not make the match an irrelevance, even if Bolivia need a miracle to qualify. The trip to La Paz will force Sabella to rethink the make-up of his team, which may be no bad thing.
Argentina's coach, once a player with Leeds and Sheffield United, is a self-confessed pragmatist, a man who will build his side around the characteristics of the players at his disposal. In this case, he has been unable to avoid the claims of the 'magic quartet' - Lionel Messi, Gonzalo Higuain, Sergio Aguero and Angel Di Maria, who between them have scored all but one of Argentina's 23 goals in the campaign.
They are magnificent players, and firing together there are few better sights in international football. But the old adage still applies: trying to get the balance of a team right is like having a small blanket on a bitter winter's night. Pull it over your neck and your feet freeze, cover your feet and your neck gets cold. With the magic quartet (or Ezequiel Lavezzi substituting for the injured Aguero), there are moments when Sabella evidently feels he has hauled the blanket over his head.
"Sometimes," he said recently, "I have to cover my face when the opponents are attacking. We have extraordinary strikers. But it's not part of their normal game to drop back and mark down the flanks, and because of this the opponents are able to go two versus one against our full-backs. It is not a problem of specific players, but of the structure of the team."
In truth, it could be both. Argentina's formation leaves the defence exposed, and the current crop of defenders are not the best. It hardly mattered in the context of Friday's game, because Argentina were already three goals up - but twice Venezuela striker Jose Salomon Rondon waltzed past centre-back Federico Fernandez to set up his side's best chances of the match.
There could be times on the biggest stage next June and July when such vulnerability proves more costly.
One possible option is the extra defensive cover provided by a back three. It is a system Sabella has employed in the past. Indeed, he used it in the 1-0 defeat to Venezuela in October 2011. The post-defeat conclusion was that, given the lack of training time, the simplicity of the basic back four was preferable. But with qualification all but assured, Sabella now has over a year to prepare a side to win the World Cup, rather than simply get there.
Another look at a back three may be worthwhile. Argentina's remaining games are full of difficult clashes - it was precisely this that made the run-in under Maradona so dramatic four years ago. Now there is little drama, and hence an opportunity to experiment in the hope of finding the defensive solidity that would allow Argentina to get full value from their attacking brilliance.
Another variation, especially interesting for Tuesday's trip to Bolivia, would be a more possession-based midfield.
"My ideal preference," said Sabella last month, "would be for a team with a bit more control of the ball in the middle of the pitch. This side is often very vertical." It could hardly be otherwise with Di Maria as one of a midfield trio. The Real Madrid flyer inevitably brings pace and directness to the dance.
At the altitude of La Paz, though, this needs to be carefully rationed. The art of playing there as an unacclimatised visitor is to run as little as possible. A speed merchant in the opposing half of the field is important - the team can sporadically gain some breathing space by playing long for him to chase. But the normal rhythm of the game should be slow, and the best way to defend is to retain possession.
On Friday, Ever Banega came on in the second half to replace Fernando Gago, once again excellent as the deep-lying architect of Argentina's play. On Tuesday there is a case for playing them together in a midfield aiming to frustrate the Bolivians by working endless little triangles.
Whether it helps them hold Bolivia is not so important. Far more relevant is the fact that Argentina gain an option that might be interesting (protecting a lead in the second half, for example) next year when Messi and company go in search of World Cup glory.
Send your questions on South American football to vickerycolumn@hotmail.com, and I'll pick out a couple for next week.
From last week's postbag;
I was thrilled when I saw that Birmingham had forked out for Christian 'Chucho' Benitez a few years back, and I had very high hopes for him as an athlete and a dribbler in the Premier League. Then it all seemed to go a bit wrong by the finest of margins as over that season he seemed able to do anything but score, creating multiple chances per game but always being denied by great goalkeeping or arguably a lack of composure. It was disappointing when they let him go, but three goals in 30 games does not a club-record striker make.
However, he now seems back to his best in Mexico. Do you think that Blues were his only chance at the big time or would he be worth a punt from a decent European side again?
Nathaniel Aspray
I've been surprised that no-one has taken a chance on him since. He wanted to stay in England, he's quick, two-footed, can play wide or central and, as you said, is scoring plenty for America in Mexico.
Perhaps he struggles for confidence when things are not going his way. He's having a difficult time at the moment with Ecuador, one of those spells when the ball is not rolling for him and the crowd getting on his back a bit.