Northern Ireland boss Michael O'Neill wants Russia game in May
Last updated on .From the section Football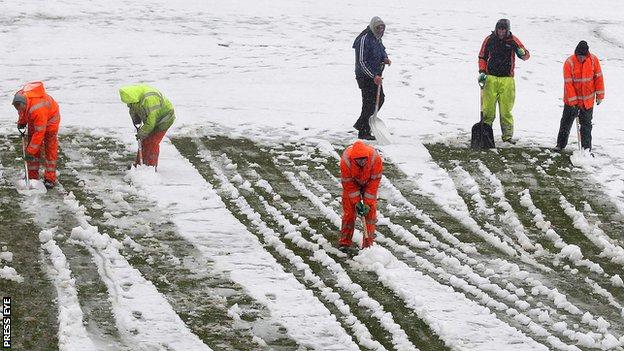 Fifa might be called on to choose a new date for the Northern Ireland v Russia World Cup qualifier - if the two nations cannot reach an agreement.
Northern Ireland manager Michael O'Neill wants the rearranged game to take place in May - as soon as possible after the British domestic season ends.
Russia face Portugal on 7 June and seem keen to fit in a trip to Belfast after that to make a Group F double header.
But the Irish Football Association is against scheduling the game several weeks after the end of the British season, when NI players will have been out of full-time training and may have holidays booked.
An international date also exists on 14 August, but Russia have already agreed to face Argentina in a friendly.
Northern Ireland manager Michael O'Neill has suggested slotting in a fixture at the end of May, but the most likely date in that window - 31 May - falls the day before key man Jonny Evans' wedding.
Negotiations will not take place until after Northern Ireland's match against Israel on Tuesday.
"When we come to talk about the new date, I will have to take into account that a game in June is well after the players' club season is over," said O'Neill.
"If we play on one of the international dates in June that could be four to six weeks since the players were in regular football - well into their summer break. That would not be ideal.
"August is also an option but it would mean Russia cancelling their planned friendly with Argentina and I am not sure they would be willing to do that.
"If possible, I am going for a date in May as close to the end of the season as possible."