FA Trophy Final: Brett Ormerod aiming to repay Wrexham fans
Last updated on .From the section Football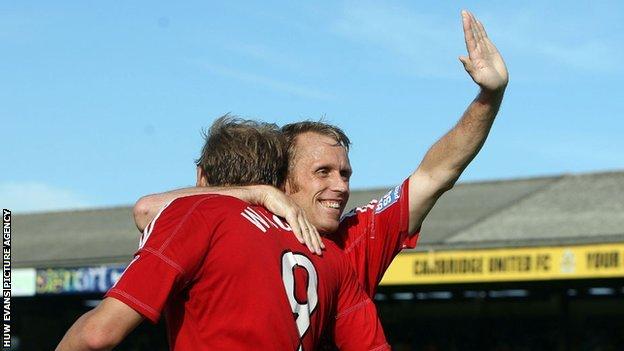 Brett Ormerod hopes to give Wrexham fans something to sing about in the FA Trophy final against Grimsby on Sunday.
The veteran striker is making his second appearance at Wembley, and is aiming to make Wrexham's first visit to the famous stadium one to remember.
And he says the players want to repay the fans for their help when the club went through financial trouble.
"It's a small way of repaying the fans and giving them something to sing about and hopefully we can do that," he said.
Ormerod hit the winner when Blackpool beat Cardiff City 3-2 in the 2010 Championship play-off final at Wembley.
He also appeared for Southampton in the 2003 FA Cup final and played in the 2001 play-off for Blackpool.
Both those matches were at the Millennium Stadium in Cardiff, but it means Ormerod, 36, has a wealth of big-game experience to pass on to his Wrexham team-mates.
"The only advice I can give them is that it's like your wedding day really," he said.
"There's a big build-up before and then it's over before you know it.
"You've got to enjoy it, give your best and hopefully if we can get the win as well it'll make things even better."
The striker, who has netted nine times in 35 appearances for the Dragons, believes the players owe a debt to the fans after they helped pay players' wages when the club was in financial trouble in the autumn of 2011.
The takeover of the club by the Supporters' Trust before Christmas that year has heralded a period of greater stability, and Ormerod understands the debt the club owes the fans.
"The fans had a couple of years when it's been hard with everything that's gone on," he said.
"You know if they hadn't stepped in, there wouldn't be a Wrexham football club. It's all down to the fans really."
The player is hoping to recapture the magic of scoring at the famous home of English football.
"It's the best feeling in the world, it's an unbelievable stadium," he said.
"When we [reached the final] I didn't realise Wrexham had never been to Wembley before, so it's going to be a great occasion for the club.
"This is something I didn't count on when I came here. It's absolutely brilliant and if we can win, it'll be up there with any of my achievements."