QPR's Tony Fernandes says relegation finance fears overstated
Last updated on .From the section Football120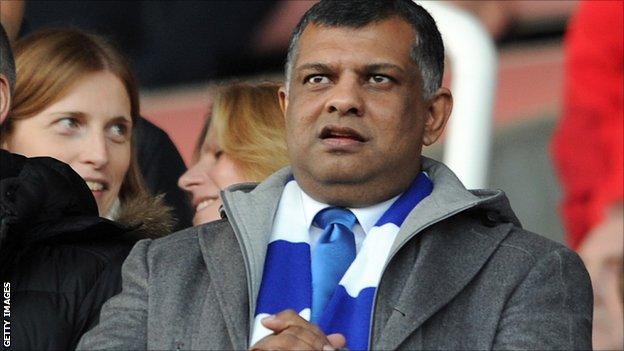 QPR owner Tony Fernandes says the club would not be "crippled" by relegation and says they are close to operating within Financial Fair Play.
Fernandes says it has been harder than he thought to make the club sustainable in the top flight but is not concerned.
"No fear at all," Fernandes told BBC World Service's Sportsworld show.
And he insisted the club's financial outlay had been "blown out of all proportion" by the media.
QPR are partly owned by Fernandes, and fellow Malaysian businessmen Kamarudin Bin Meranun and Ruben Emir Gnanalingam, who have a combined 66% stake. The remainder belongs to the Mittal family.
The club, who have spent millions of pounds rebuilding their squad following promotion to the top flight in 2011-12, lie bottom of the Premier League with eight games to go and are seven points from safety.
In January, Rangers twice broke their transfer record, spending more than £20m on Loic Remy and Christopher Samba.
Since taking over at the club in August 2011, Fernandes has invested a significant amount on transfers, and the wage bill and debt is likely to have increased dramatically since the last accounts which go up until May 2012.
There have been two further rounds of heavy spending on players since then, in the summer of 2012 and January this year, and despite the promise of parachute payments if they go down, there are fears the club could be in danger of financial meltdown.
But asked whether relegation would cripple the club, Fernandes replied: "No, I don't think so.
"If we went down, we would just have to come back up. I've been in the airline business where we have had [to deal with] Sars, bird flu, earthquakes, and an oil crisis - so relegation is just another thing that would have happened. And we learned. We know what we need to do and we've put the right foundations in place."
Fernandes says he is committed to the club and will remain at Loftus Road even if they do find themselves back in the Championship next season. And he insists the extent of their transfer spending, as well as the wages they are supposed to be paying, has been exaggerated.
The Air Asia owner says QPR are not far off the limits that Financial Fair Play would introduce, and that he feels they have invested wisely. But he conceded that the difficulties in making the club profitable had surprised him.
"It's hard - much harder than I thought," he said.
"It is tough but hopefully next year there is a lot of TV money, hopefully we are still in the Premier League and that will give us a good chance.
"The press have blown it out of proportion. We are not that far away from FFP anyway.
"Our wage bill is a lot lower than being quoted. I mean the salary of Samba and stuff is just ludicrous when I read what they've reported.
"We are no different to any other club. We had to build a whole new team. None of the players who left QPR are in the Premier League anymore. These things happen."