Football must 'catch up' with society says UN commissioner
By Richard Conway
BBC Sport in Geneva
Last updated on .From the section Football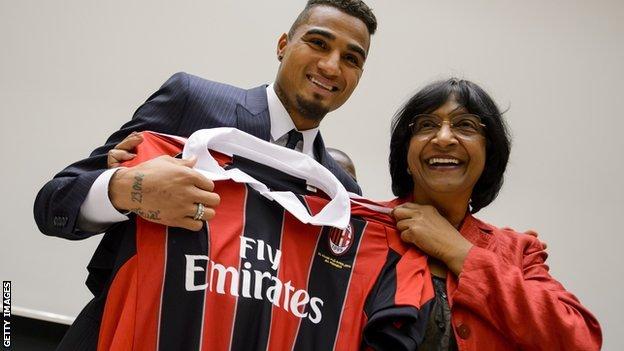 The United Nations High Commissioner for Human Rights believes football is behind the times and must "catch up" with modern society on social issues.
Navi Pillay, who grew up and worked as a lawyer in Apartheid South Africa, is also concerned women remain severely under-represented within the game.
She said: "It is time for football to catch up with 21st century values of respecting diversity."
And she added football "has to respect human rights law".
Speaking to BBC Sport at her office in Geneva, the former international criminal court judge, who hosted a panel discussion on racism and sport with AC Milan's Kevin-Prince Boateng on Thursday, believes football must move with the times on issues such as accepting gay players, combating racism and promoting the role of women.
"It is time for football to take a lead and particularly problematical here is continuing in old archaic ways saying football is a man's world. It's not."
Pillay is a long-standing champion of human rights and famously won the right for Nelson Mandela and other political prisoners held on South Africa's Robben Island to have access to lawyers.
She insists sport cannot be immune from universal legal values. "Football also has to respect human rights law," said the South African.
Fifa is due to appoint its first female member to its powerful executive committee later this year, but Pillay is concerned that women remain scarce in key positions at club level.
"I'm concerned that these huge clubs are administered by men," she added. There aren't women in decision making positions in these clubs."
"There is a wide gap and what women are saying to me is that since they are excluded from these positions their voices are not heard.
"So their right to freedom of expression is also affected."