John Mousinho: Preston North End captain accepts criticism
Last updated on .From the section Football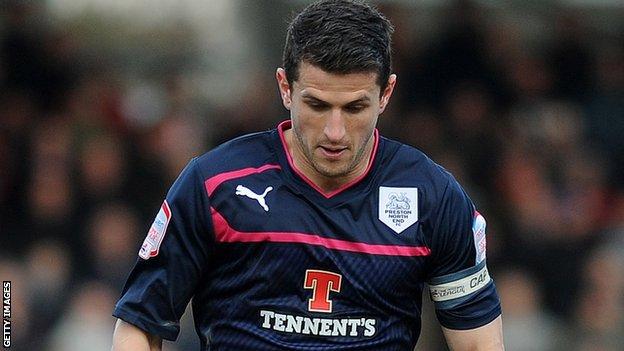 John Mousinho believes Preston fans have not seen the best of him and will accept any criticism of his form.
The 26-year-old midfielder was and by former North End boss Graham Westley.
"I've captained a side that, a month ago, was just hovering above the relegation zone.
"By my own standards, I agree that it's not been good enough at all," Mousinho told BBC Radio Lancashire.
"I'm not under any illusions about certain fans' opinions of me. I've not got a problem with that. I'm big enough to take it on the chin and I've had enough experience of football to get on with it and learn from it."
Preston were on the fringes of the League One play-off places early in the campaign but have since struggled, winning four of their last 20 league games, and were in danger of being dragged into a relegation battle before their recent improvement under new manager Simon Grayson.
Injuries have disrupted Mousinho's first season at Deepdale, limiting him to just 10 league starts.
"I felt that my best form came earlier on in the season," he continued.
"I felt excellent against Huddersfield [in Preston's opening competitive game of the season] both physically and mentally.
"Five days later I tore my hamstring and I haven't quite been able to replicate that form since then.
"I'll take responsibility for that. I've not been scoring goals or creating goals and I've not done enough to galvanise the midfield.
"On that basis, there's a massive amount more to come from me and massive improvements that I'm expecting from myself."