Watford: How under-fire Pozzos turned club into 'big-hitters'
By Chris Osborne
BBC East Sport
Last updated on .From the section Football124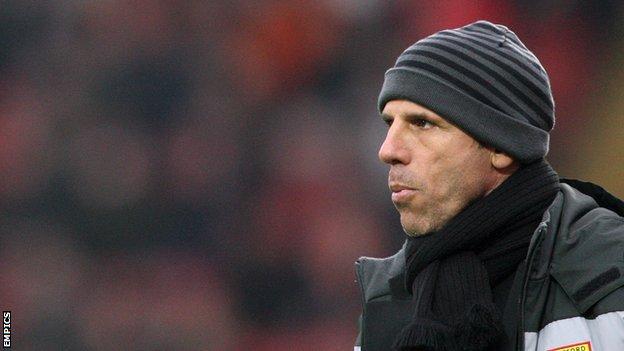 Watford supporters became aware of how bad things nearly were this week when former owner Laurence Bassini was banned from football for three years.
Crucially, though, the Hornets escaped a points deduction that could have undermined their promotion push.
But perversely it is the current owners, who have presided over Watford's charge up the Championship table, who have felt the contempt of the wider footballing world.
When the Pozzo family arrived from Italy to the changes were swift and clinical - a new manager and a raft of new players were suddenly on the scene.
Manager Sean Dyche, who had continued the good work of his predecessor Malky Mackay, was cast aside, replaced by former Chelsea and Italy striker Gianfranco Zola.
But it was the flurry of foreign imports, mostly from fellow Pozzo-owned Serie A side Udinese, that had pundits and other managers up in arms.
Watford had become "a snapshot of everything that is wrong with the modern game", said one writer.
Then-Blackpool boss Ian Holloway, always a reliable source for an opinion,
The Hornets, so often the underdogs, were now fair game.
"Watford have never had big budgets, they've never had big players. So it's always the David and Goliath scenario," David Hockaday, who was part of Aidy Boothroyd's staff during Watford's most recent foray into the Premier League six years ago, told BBC Sport.
"That sits comfortably with the culture of the club. It's always an uphill battle and we - I say we because I have an affinity with the club - we are always fighting. Put us in a corner and we'll come out fighting.
"That's probably why this season sits a little uncomfortably with a lot of people because Watford have managed to get these loan players in and are seen as one of the big hitters."
Plymouth goalkeeper Rene Gilmartin left Vicarage Road weeks before the Pozzos' arrival and Dyche's departure.
"Seeing Sean being moved on was a massive surprise, because there's no loyalty," said Gilmartin.
"There were a lot of people in the backroom staff who I know who were moved on or moved to new roles. It was an upsetting time.
"It was a completely new step for the club and a massive risk."
For supporters, such as Mike Parkin, the co-host of the From the Rookery End Podcast, the changes were unnerving.
"In terms of the owners there was uncertainty," he said. "You look at Udinese and think 'they're doing well, but how the heck are they going to manage that at Watford? We're right in the mire, a relatively small club, with a three-sided ground and what was effectively half a squad'.
"It was tumultuous and hard to get your bearings."
Watford's approach is firmly within the rules, because although Football League clubs are only allowed to name five loanees in a matchday squad, foreign loans count as regular transfers and have no such limit on them.
When the Hornets won just two of their first seven league games, the naysayers were quick to point out the plan had fallen down.
But, six months later, Zola's men are firmly in the promotion race, and some are reflecting on how impressively a brigade of interlopers have come together in so short a time.
"What they've done is nothing short of incredible," said Hockaday, who is now manager of Blue Square Bet Premier side Forest Green Rovers.
"To get them to gel and go on the run they did is remarkable.
"Watford have found a loophole and there's a lot of clubs that are wishing they found that loophole first. There's a bit of jealousy.
"If the loophole is going to be closed it's going to be closed. But in the meantime they've found a way of improving their club.
"You get through the wall, under the wall, over the wall, around the wall however you can. You can't blame them for keeping within the rules. Other people would do the same thing.
"My only concern is whether it is sustainable. If it is sustainable and then incorporates the youth, that's brilliant."
Hockaday speaks as a man who oversaw one of the most productive times in Watford's acclaimed youth academy.
The side he helped guide to a top-flight season in 2006 consisted of predominantly home-grown talent, including England and Manchester United winger Ashley Young and defender Lloyd Doyley, who remains a part of the current crop seven years on.
The new intake of youngsters still get a look in under Zola, but their presence is less felt than in recent years.
"They're playing fantastic football with flair, initiative and freedom," said 25-year-old Gilmartin, who found his own opportunities limited at Vicarage Road.
"I would only hold back because I would like to see young players, who I believe can play the same standard of football, be in the team.
"But you can't knock it. I'm just a bit gutted for some of my friends who I know work hard enough to get into that team."
Meanwhile, Watford fans are coming around to the notion that their side are no longer the plucky underdogs but instead, like a young super hero coming to terms with his new-found powers, a force to be reckoned with.
"Where we were at the end of last season compared to now, they're poles apart. Sometimes we have to pinch ourselves," said Parkin.
"It's been quite difficult for some Watford fans to work out how they feel about it. The juxtaposition is quite jarring and uncomfortable - but that's by no means a complaint."