Dundee: John Brown uncertain over the future of Rab Douglas
Last updated on .From the section Football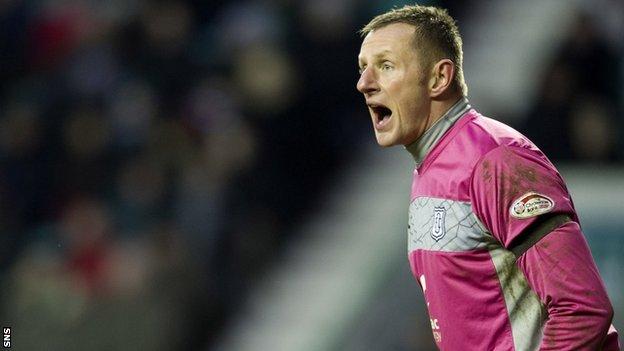 Dundee interim manager John Brown has admitted he has not spoken to keeper Rab Douglas since Friday.
Brown stated that there would be further developments related to Douglas' reaction.
"What's going to happen is going to happen. We had a conversation, things were said and he left the stadium after that," said Brown.
"He's not (been back since) but things are happening; so, when that happens you'll find out."
The former Rangers midfielder insisted that Simonsen had been signed as a consequence of Douglas sustaining an injury.
"Let's go back a couple of games to the St Mirren game where he pulls a thigh muscle and plays on valiantly," said Brown.
"He makes two great saves and we win the game. That was a big part of Rab Douglas. He then plays in the Inverness game and can't take a goal kick, he can't take a pass-back and can only throw the ball out.
"I've got to address that problem and he was fantastic."
However, Brown added that Douglas had been unhappy at the arrival of Simonsen.
"I addressed that and got a goalkeeper in and spoke to Rab over the phone. I got him in the following day and he was upset.
"I love players with passion; Rab's got passion and he was upset with that. Basically, if we went into the game on Sunday and had a man sent off then we'd have been down to nine men, not 10."