Kidderminster Harriers: Burr has learnt from experience - Clarkson
By Ged Scott
BBC Midlands Sport
Last updated on .From the section Football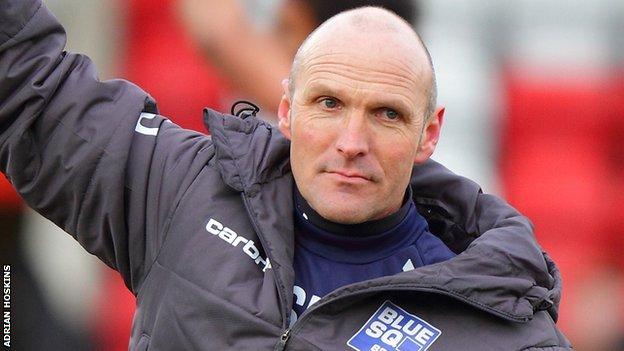 Kidderminster Harriers went top of the Blue Square Bet Premier table for the first time in 13 years when Cheyenne Dunkley's injury-time strike snatched all three points at Newport on Tuesday night.
It is a position of pre-eminence in English non-league football that they have not held since Jan Molby's team, skippered by Ian Clarkson, won the Conference title in 2000 to finally win their much-coveted place in the Football League.
Having become the last team of part-timers to win promotion to the '92', Harriers were to spend just five years in the Football League basement, finishing no higher than 10th as they struggled to attract the support off the field needed for them to climb any higher.
They then spent the next five seasons struggling against the backdrop of financial problems. And although they are still not the richest club in non-league football, since the appointment of Steve Burr as boss in 2010, there has been a significant upturn in fortunes.
Successive sixth places in the Blue Square Bet Premier sparked belief that this might be their season back in August, only for the Harriers to lose their opening five games.
They then only managed draws from their next five matches to sit bottom of the pile on 29 September - but since then the transformation has been dazzling.
Just four defeats in 29 games has seen them go top with just seven games to play.
And former Harriers captain Clarkson, the man who led Molby's side to the title in 2000, sees clear similarities.
"In our day, there were no play-offs. We had to win the thing," recalls Clarkson to BBC Sport with a wry grin.
"But winning week-after-week is a really good habit to get into.
"It looks like they're timing their run just right, like we did.
"And, if it does happen again this season, then it could not happen to a nicer bloke than Steve Burr.
"He's one of football's good guys and I'm really pleased he's doing so well."
Clarkson moved on from Kidderminster to play under Burr, then a managerial novice, at Nuneaton. And he reckons that Burr's early struggles at Manor Park must have had a beneficial effect.
"For him, Nuneaton must have been a good learning curve," Clarkson said.
"He probably learnt more in that time. That's what getting experience is all about and, ever since then, he's been pulling up trees.
"When the Harriers had their bad spell at the start of this season, it must have helped him that he'd been there, seen and done it and knew not to panic, but to stick to his beliefs.
"It didn't work out for me at Nuneaton. I remember going to Steve in the November and saying I wanted to stop and he was great about it. In fact, I'm sure he was as relieved as I was. But I'm so glad it's worked out for him as he's a really nice fellah.
"He's well organised, he wants to play the game the right way, and he knows how to engender great team spirit.
"He had specific ways of wanting to play and, with a man as experienced as Denis Booth, who had worked for Graham Taylor at Villa, working for him then, he had good ideas and training was good, which is always important."
Clarkson's happy memories of life with the Harriers include being very grateful to Burr (then the assistant manager) and Boro one Saturday afternoon during the promotion run-in, when Nuneaton earned a late draw at Kiddy's main rivals Rushden.
"We'd got a Saturday afternoon off," recalls Clarkson, "so Jan Molby allowed us to spend it in the boozer, playing pool, watching Sky.
"Nuneaton were playing Rushden and, when Boro equalised to make it 1-1 with five minutes left, the whole place was jumping, there was singing, pool cues in the air and a lot of pints being sunk.
"We had to play Rushden at Aggborough the following week, beat them 2-0 and that was us more-or-less home and hosed.
"Playing league football is what counts," said Clarkson, who also played in the Football League with his boyhood heroes Birmingham City, as well as Stoke City and Northampton. "But I had a really good experience of the Conference.
"Having broken my leg with Northampton the previous season, I had to manage training carefully.
"We trained Monday and Thursday nights on Aggborough. And I used to do one night or the other every week.
"And there were a lot of good players in that team, the likes of Ian Foster and Craig Hinton, although Mike Marsh was the one that stood out.
"He signed about the same time as me and we went on a run of two defeats in 25 games.
"We had 6,000 fans there that day at Rushden and, although we didn't have the money to compete back in the league, we had a top-class chairman in Lionel Newton."
And Clarkson admits his time with Harriers brings back great memories both on and off the pitch.
"It was a good club to be at," he added. "The style of football was great and working with Jan Molby was fantastic. And you were still allowed a pint or two in those days."