Barry Hearn in pledge over Olympic Stadium battle
Last updated on .From the section Football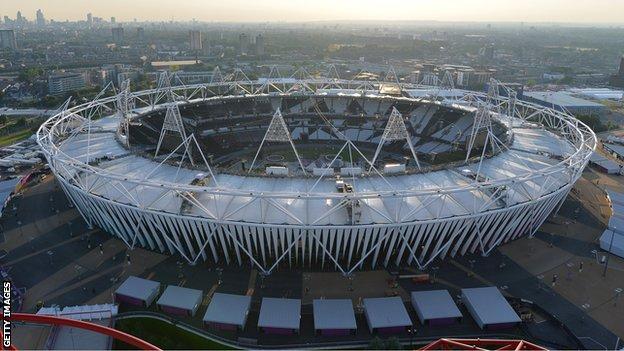 Leyton Orient chairman Barry Hearn says he will end his legal fight for the Olympic Stadium if he fails to win a judicial review of the decision to name West Ham preferred bidder.
Hearn believes his League One side were not given chance to discuss a groundshare with their neighbours and that this is contrary to the rules.
"If I lose the judicial review, I have got to walk," he said.
"That's it. I can't do anything else. I have fought a really good fight."
London Legacy Development Corporation (LLDC), which named the Premier League side as the preferred bidder in December, has said its processes were "robust, fair and transparent".
But Hearn is mounting a in a bid for a judicial review into the handling of that decision.
He maintains West Ham's move to the Olympic Stadium would "crush" Leyton Orient. The arena, which would be scaled down from its 80,000 London 2012 capacity to become a 60,000-seater, is less than three miles from Orient's Brisbane Road, which holds just over 9,000.
Hearn said its proximity would mean he had to find a new home for his club.
"I've cost people a lot of money and spent a lot of money myself but I don't regret it because I think I am in the right," he said.
"We are not being given a chance. We've had no opportunity to team with West Ham - they won't even talk to us about it.
"So we think they are in breach of their own rules. We are hoping the judge says 'no, these are the rules, you have not followed them, you must sit down and talk about teaming'."
Hearn said he remained confident of winning a judicial review but admitted that, even if the bidding process were restarted, he was unlikely to be granted a joint tenancy.
"Eventually I will get beaten. They may go through the motions," he said.