LMA boss Richard Bevan 'embarrassed' by recent sackings
Last updated on .From the section Football568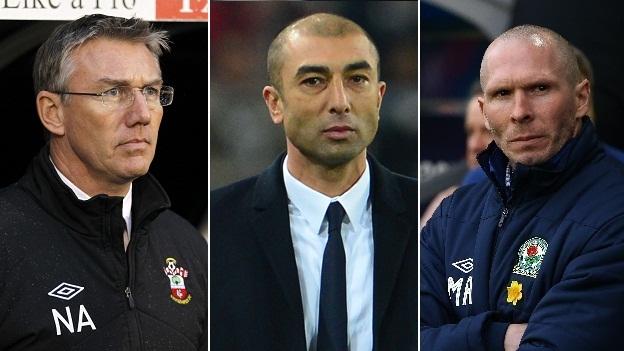 The League Managers' Association has described the number of sackings in football this season as "embarrassing".
LMA chief executive Richard Bevan said the number of departures is at a five-year high, following Michael Appleton's dismissal by Blackburn on Tuesday.
In total, 103 managers and coaches have lost their jobs in 2012-13.
Bevan said: "It's embarrassing for the game that all of those sackings are unfair dismissals. The volatility is undermining the profession."
Appleton became the 32nd manager to be sacked this season after 15 games and 67 days at Ewood Park, while Gary Smith took the tally to 33 on Wednesday when he was dismissed by League One club Stevenage.
Fourteen managers have resigned from their posts, while another 60 coaches have also been dismissed, the LMA said.
"That's over 100 people, 100 managers, 100 families," Bevan told BBC Radio 4's Today programme.
"I'm not sure where the arrogance of football comes from that we don't have to behave as any other industry."
Four Premier League managers - Roberto Di Matteo at Chelsea, Brian McDermott at Reading, Nigel Adkins at Southampton and Mark Hughes at QPR - have been sacked this season, but job security further down the Football League seems even more volatile.
In the Championship 17 managers have been dismissed, while in Leagues One and Two there have been a combined total of 26 managerial departures.
Nottingham Forest have appointed three managers since July and last month Paul Ince became Blackpool's third permanent boss of the season, after Ian Holloway left to become Crystal Palace boss and his replacement Appleton took up the Blackburn job.
Appleton is the third manager to leave Rovers this season, following the departures of Steve Kean in September and Henning Berg in December.
"The owners probably made the first mistake when they sacked their executive chairman John Williams and their managing director Tom Finn and since then they've gone downhill," said Bevan of the situation at Blackburn.
"Everything in business is about communication. Michael told me he had no conversation at all during his tenure since January with the Indian representative running the club.
"He's got 20 players on the injury bench. What he needed was support, not a letter of sacking.
"Blackburn need to look very hard into stability, they need to look at communication with the fans and they need to look very hard into how they can invest in personnel, look medium term. That's the only way they're going to climb up the table."
Bevan added that the Football Association "needs to work harder" over the issue of managerial instability.
He said: "We need to work as a group - the Premier League, the Football League, the Professional Footballers' Association, the League Managers' Association - to ensure that we have better training not only for managers but also an understanding of how you run a football club."