Everton's Phil Neville to join England Under-21s as coach
Last updated on .From the section Football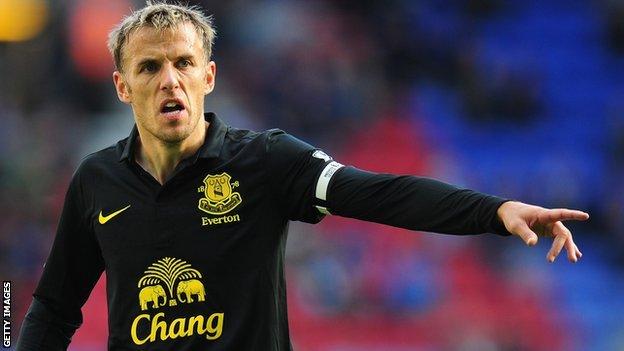 Everton captain Phil Neville will join the England Under-21 coaching staff for the European Championship in Israel.
"It is a fantastic opportunity for me to work with the best young players at under-21 level," said Neville.
"I had a little taste of this against Belgium and it was probably the best three days I have had - it was a real eye-opener."
Neville will be a member of coach Stuart Pearce's staff for the tournament in June when England will face Italy, Norway and hosts Israel.
He previously worked alongside Brian Eastick and John Peacock while Pearce led the senior side in a friendly defeat to the Netherlands.
"The thing I noticed about the Under-21s is that there is a great spirit amongst the staff and the players, and there is a real togetherness and determination that they want to win this tournament," added Neville.
"If I can play a small part and learn from it then it will be great."
Pearce said: "For the FA it's important to encourage young coaches to take such opportunities and we're pleased that Phil will be with us during the tournament."
Neville's older brother Gary is head coach with the England senior squad under manager Roy Hodgson.