Lee Johnson: Oldham manager to use father Gary's influence
By Phil Cartwright
BBC North West Sport
Last updated on .From the section Football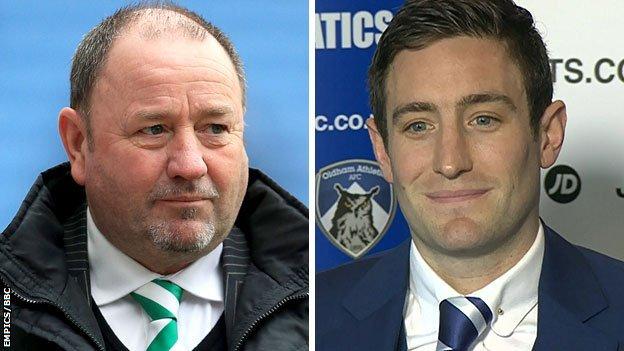 Lee Johnson will begin his managerial career at Oldham Athletic safe in the knowledge that he has learned from an impressive mentor - his father, Gary.
The 31-year-old became the youngest boss in the Football League
Gary is currently in charge of another League One club - Yeovil Town - and has more than two decades of managerial experience to his credit.
And while Johnson Jr wants to implement all he has learned from his father, he is also keen to be a successful manager in his own right.
"I've lived with my dad for 20 years as a manager and I've lived through almost every decision he's made. I've gained a lot of experience from him," he told BBC Radio Manchester.
"But as far as having an influence on me getting a [managerial] job, I've made a distinct decision to stay away from him.
"I really wanted to make my own contacts, network and travel the world to learn new experiences and not do it on the back of his name. I'm quite proud of that because it's got me where I am now, but there's no doubt that he's a big influence because he's been successful. It's a difficult job and he's been in work consistently for 20 years."
As a player, Lee was part of his father's squad at both Yeovil and Bristol City, and Gary says he has felt for some time that his son would follow in his managerial footsteps.
He told BBC Somerset: "Probably the reason why he's got the job and why I've been so long in the job is that we're both very professional people.
"He was one of those, even from a younger age, that would take advice but would not necessarily always act on it. He's got his own mind.
"I think in time, Oldham will see they've got a very good man to have at the helm. He'll be thinking long-term because that's how he's been brought up with me.
"We [the Johnson family] are very proud of him and what he's achieved.
"Being the youngest manager in the League is a big effort for him. Someone's obviously got a lot of faith in him other than his dad and that's good."
And Tuesday, 16 April will surely be a date circled on the calendar in the Johnson household - because that's when the League One fixture list sees Yeovil visit Oldham - father versus son.
"He'll be very professional in his dugout and I will be in mine," the Glovers boss added. "While the game's going on, he's just be another manager.
"Hopefully he'll get beaten by us but he'll still keep them in the league. If I sell him [Yeovil's top goalscorer] Paddy Madden and I play my youth team on that day, you'll know there's a bit of a 'father and son' thing going on."
Another man who is in no doubt about Lee's credentials is Oldham chairman Simon Corney, who appointed the former Hearts and Kilmarnock midfielder ahead of around 120 other applicants and has trusted Johnson to save the Latics from relegation.
"Without any shadow of doubt, he was the overwhelming candidate," Corney told BBC North West Tonight. "His knowledge and understanding of the game was so fantastic.
"He's spent a long time preparing for this moment. I actually think we're lucky to have him, as opposed to the other way around."