Michael Owen retires: Striker leaves memories to savour

By Phil McNulty
Chief football writer
Last updated on .From the section Football244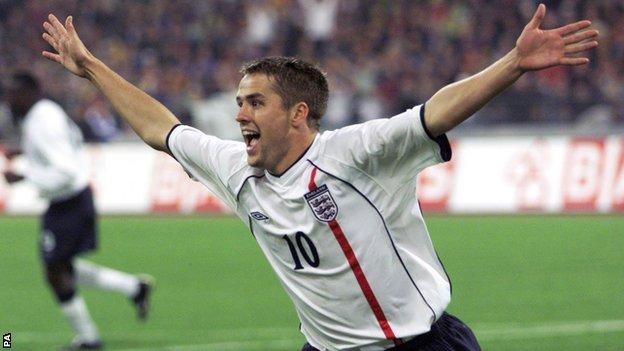 The secret was out in a suburb of Liverpool many years before Michael Owen became a global star with his iconic England goal against Argentina in St Etienne during World Cup 98 in France.
Behind the walls of the club's Melwood training headquarters in West Derby - then a far cry from the magnificent modern complex it represents today - Liverpool's staff and players could barely contain their excitement at the emergence of one teenager.
Owen, then 16, was regarded as a commodity so precious he was almost kept from view when he returned to play for Liverpool's youth team from the FA's base at Lilleshall in 1996.
The striker was deliberately kept away from the spotlight but the buzz of excitement was palpable and there was no hiding place as he cut down opponents such as Manchester United and then West Ham United - their side including Rio Ferdinand and Frank Lampard - in the final as Liverpool won the FA Youth Cup.
Small, blessed with lightning pace, natural goalscoring ability and an electrifying presence that pushed defences back those crucial paces, it was the opening phase of a career that will come to a close with Stoke City at the end of this season, the news confirmed in an emotional announcement from the 33-year-old on Tuesday.
Those concluding, injury-plagued years of Owen's career at Newcastle United, Manchester United and Stoke mean he leaves football with understatement rather than the blaze of glory his many memorable feats deserve.
When England's greatest moments in recent memory are recalled, Owen plays a central role. From the slaloming run and rising finish against Argentina in 1998 to September 2001 and his hat-trick against Germany in the famous 5-1 win in the World Cup qualifier in Munich, Owen was not just a scorer of goals, but a scorer of important goals.
Owen, however, does not deserve to be remembered as one of England's finest post-war strikers out of misplaced sentiment. The statistics speak eloquently on his behalf.
The final years may not have been what he wanted but to suggest Owen's career has somehow been unfulfilled ignores his achievements and the golden moments he will leave behind.
Owen was so widely respected that he won the Ballon d'Or for Europe's Footballer Of The Year in 2001, a sign of the esteem in which he was held in the world's football community.
At Liverpool, aside from scoring 158 goals in 297 games, he will be remembered for almost single-handedly snatching the FA Cup away from a dominant Arsenal at Cardiff's Millennium Stadium with two goals in the last eight minutes as part of a season in which they also won the League Cup and Uefa Cup in 2001.
Owen's cold-eyed, single-minded and ruthless approach to business meant he was never as close to the hearts of Liverpool's fans as Toxteth-born Robbie Fowler, perhaps regarded more as one of their own, but he was a priceless asset in those successes under Gerard Houllier.
Some Liverpool supporters have never quite forgiven Owen for his subsequent career moves that have taken in Real Madrid, Newcastle United and - regarded as the ultimate betrayal - Manchester United, but many more will reflect on his contribution with affection and admiration.
In latter years, he was taunted at Anfield for missing out on Liverpool's Champions League win in Istanbul in 2005 having left for Real Madrid the previous summer. Few, however, suggested at the time that he was leaving a club likely to win the trophy in new manager Rafael Benitez's first season.
The time in La Liga can also be framed as a success with 14 goals in 40 games, confirmation of Owen's adaptability and ability to transfer his goalscoring knack to any stage.
Owen would have relished a return to Liverpool when his Madrid adventure ended after 12 months but the Merseyside club were understandably reluctant to match Newcastle United's £17m offer for a player they sold for only £8m a year earlier. Owen, for his part, could not delay his move to Tyneside with a World Cup in Germany coming up in the following summer.
It was not disloyalty to Liverpool that sent Owen to Newcastle, simply a set of circumstances, and to suggest he did not put his total commitment into his time at St James' Park is to misjudge his character.
Owen's arrival to join the Toon Army was greeted with scenes bordering on hysteria but this was where his injury problems, which started back at Liverpool in the late 90s, began to take a heavy toll.
He suffered acute hamstring problems, the injury so feared by any player using pace as a primary weapon, and was then sidelined for a year when he sustained serious knee damage in the opening seconds of England's World Cup game against Sweden in Cologne in June 2006.
Owen played only 79 games in four years at Newcastle, scoring a highly respectable 30 goals, and there was enough evidence to persuade Manchester United manager Sir Alex Ferguson to give him a two-year deal in July 2009.
The player's management team had produced a 32-page glossy brochure advertising his talents to potential buyers but Ferguson trusted old instincts, his and Owen's.
Again Owen's injury problems limited him to 52 games and 17 goals in three seasons at United but once more he left something to remember him by, namely a trademark penalty-area swoop for an injury-time winner in a dramatic 4-3 derby win against Manchester City at Old Trafford, as well as a goal in the 2010 League Cup final victory against Aston Villa at Wembley.
Big games. Big goals. The Owen template.
And after winning the FA Cup and League Cup he was able to add a Premier League title winners' medal to his collection with United in the 2010-2011 season.
Stoke City has been a disappointment but cast a glance over Owen's entire body of work and it reveals one of the most outstanding and successful strikers of modern times.
Injury almost certainly denied him the opportunity to be England's all-time leading goalscorer as he currently stands fourth behind Sir Bobby Charlton - top of the list with 49 - Gary Lineker and Jimmy Greaves with 40 goals in 89 appearances.
Fabio Capello never truly trusted in Owen's abilities even when he was fit but that did not stop his admirers wondering whether he still could have been utilised more as a squad player. When the question was posed: "Which England striker would you want that crucial chance to fall to?" the answer was still invariably Michael Owen.
The departure may be low-key but the end of this season will bring the curtain down on the career of an outstanding striker at domestic and international level.