Peter Odemwingie: West Brom to deal with striker 'internally'
Last updated on .From the section Football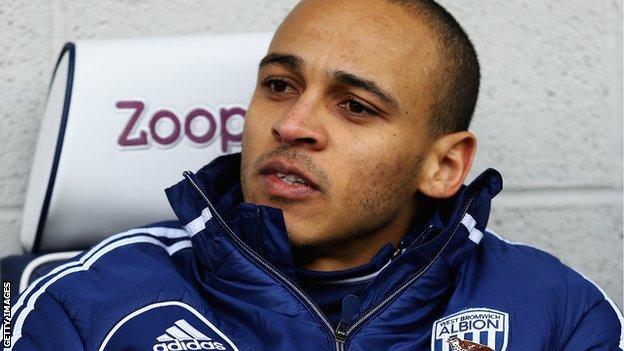 West Brom say they will deal with Peter Odemwingie internally following his latest criticism of the club.
Odemwingie, 31, was disciplined in January after criticising the club on social networking site Twitter when the Baggies rejected a transfer request.
He made another attack after driving to QPR without permission on deadline day only for the move to fall through.
On Sunday the Nigerian international hit out at being omitted from the starting 11 for the past four games.
While the majority of Odemwingie's tweets have since been deleted, an Albion spokesman said: "The club are aware of what Peter has said and we will deal with it internally."
West Brom also confirmed that social networking activity is governed by the club's disciplinary code of conduct.
The striker has not started a game since driving to Loftus Road on transfer deadline day in January.
"Keeping me on the bench now is worst [sic] than what they did on the 31st," the Nigeria international tweeted.
Told later by a fan on Twitter that he should be sacked, Odemwingie replied: "That's my wish."
In a stream of Twitter outbursts on Sunday, the Nigeria international, who joined Albion in 2010, added: "If they like they shouldn't even give me 10 mins to play. Threatening to ruin my career? Career I closed already last summer? No harm to me.
"Want to treat me like an average player. The abuse and praise I get is it average? So get some extra from me too."
Odemwingie reported to training the day after his unauthorised trip to west London, but was told to return the following week and was subsequently fined two weeks' wages.
In February, manager Steve Clarke insisted the forward still had a part to play this season.
But Odemwingie has been used as a second-half substitute on four occasions since the controversial incident, including an appearance in the 68th minute in the goalless draw at Stoke on Saturday.
Odemwingie, who has scored five Premier League goals this season, has another season left on his contract after the end of the present campaign.