Africa must combat match-fixing, says ex-Fifa official
Last updated on .From the section Football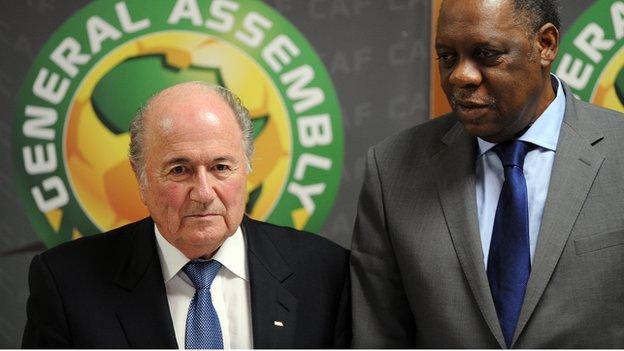 Africa needs to do a lot more to combat match-fixing if it wants to restore the faith of fans in the sport, according to a former Fifa official.
Chris Eaton, a former security chief for football's governing body, has called for a new body made up of police across Africa, sporting bodies as well as gambling organizations.
He said it would need appropriate funding both from inside and outside Africa and should go beyond "writing reports" to produce credible investigations.
Eaton, who is the director of sports integrity for the Doha-based International Centre For Sport Security, told the Associated Press: "Africa needs a substantial, continental reform really.
"I think you will find most serious people in sport in Africa today recognise that. There is a need for regulation and oversight of the official and even unofficial bodies that are part of the sporting milieu.''
Speaking at the Centre's two-day conference, Eaton praised police in Africa but said governments on the continent didn't seem serious about combating the problem.
"It is a lack of political will,'' Eaton said. "African police are as competent and capable as any police in the world. There is no doubt if they put their will to it and have the funding to it, they can do it.''
While Uefa and the Asian Football Confederation have acknowledged the problem of match-fixing and taken steps to combat it, Africa has so far done little - despite the fact there are an "enormous amount of allegations involving Africans in match-fixing,'' Eaton said.
The Confederation of African Football did not address match-fixing at its recent conference, where President Issa Hayatou was re-elected unopposed after rule changes made his only challenger, Fifa executive committee member Jacques Anouma, ineligible to stand for election.
Match-fixing has become a global problem, and a report from the European Union police agency, Europol, found organized crime gangs have fixed or tried to fix hundreds of football matches around the world in recent years.
Europol said an 18-month review found 380 suspicious matches in Europe and another 300 questionable games outside the continent, mainly in Africa, Asia and South and Central America.
Last month, a former assistant to South Africa's national team was jailed for trying to fix a match.
And referee Ibrahim Chaibou, from the West African country of Niger, has had at least five of his matches flagged as suspicious by betting monitoring companies, an action that usually prompts Fifa and national football organizations to look into the possibility that it was fixed. Chaibou denies any wrongdoing.