FA Trophy Final 2013: Defender Mark Creighton lifts the lid on Wrexham team-mates
Last updated on .From the section Football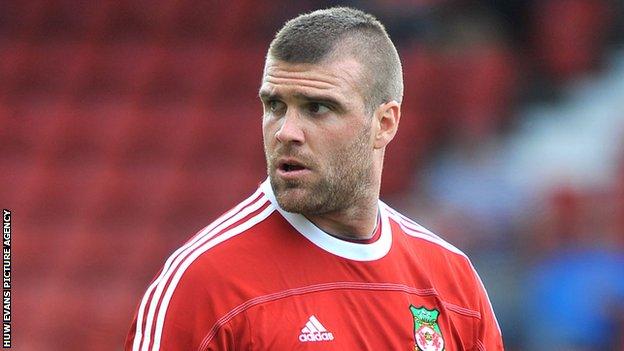 Ahead of Wrexham's first visit to Wembley for the FA Trophy Final against Grimsby Town, defender Mark Creighton has lifted the lid on his Dragons team-mates.
Creighton will not feature in Sunday's final as he continues his recovery from the serious knee injury suffered in August, but he has given BBC Wales Sport a tongue-in-cheek insight into how he rates his colleagues.
The 31-year-old knows all about playing at the new Wembley having appeared for Kidderminster Harriers and Oxford United at the home of English football.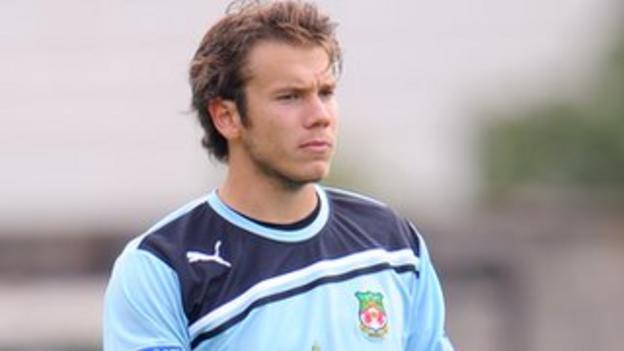 Chris Maxwell
Age: 22, Goalkeeper - on loan from Fleetwood Town
"He's desperate to be six foot tall. Every day he comes in and gets himself on the measurer but he's never going to be six foot. He's a good keeper though and he deserves his chance to play at Wembley."
Andy Coughlin
Age: 20, Goalkeeper Former club: Tranmere Rovers
"Eminem, or Lurch as we call him, has done very well and has had big boots to fill when he's come in. It's always hard for a young lad to come into a team, especially one pushing for the title."
Stephen Wright
Age: 33, Defender Former clubs: Liverpool, Sunderland, Coventry, Hartlepool
"Has played at a high level for a long time and his experience will be vital for the boys out there. He's an old head in the camp and he will steer the young boys in the right direction on the day."
Neil Ashton
Age: 27, Defender Former clubs: Chester, Shrewsbury, Macclesfield
"Ashy's touch and go whether he makes it (because of injury). He's a bit of a veteran at the club now although his age doesn't show that. He plays week-in, week-out for us and it will be a massive bonus for us if he is plays."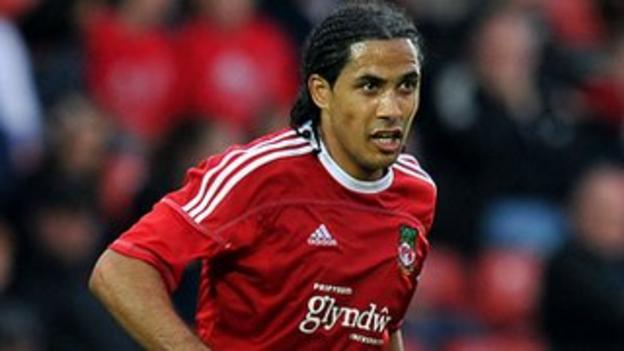 Chris Westwood
Age: 36, Defender Former clubs: Wolves, Hartlepool, Peterborough United, Wycombe Wanderers
"Westy had been absolutely brilliant for us this season. He's probably my player of the season. He's big, he's strong, he talks and is a proper leader. He's been there and done it for a long time and we'll need him on the day without a doubt."
Martin Riley
Age: 24, Defender Former clubs: Kidderminster Harriers, Cheltenham, Mansfield Town
"Martin is a very good friend of mine and he is excited about playing at Wembley. He knows I've played there twice so I've given him my stories about being there and now fortunately for Martin it's his turn. Hopefully he'll do well on the day."
Leon Clowes
Age: 21, Defender
"Leon's a great lad and is a typical old fashion centre-half which you don't really see coming through these days. But don't get me wrong he can play football as well and is a tough cookie."
Declan Walker
Age: 21, Defender
"Trigger's another young lad, very excitable who will need the experience around him on the day at Wembley."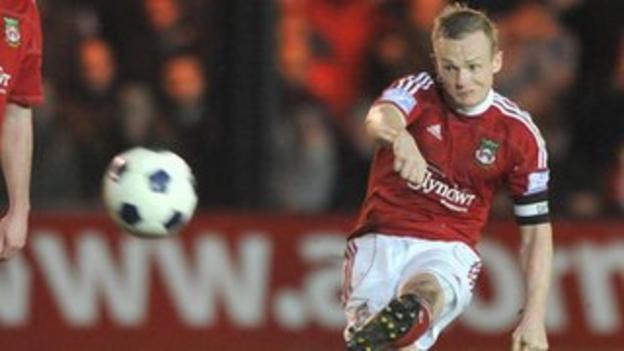 Dean Keates
Age: 34, Midfield and captain Former clubs: Walsall, Hull, Peterborough United, Kidderminster Harriers, Wycombe Wanderers
"Keatsey will be a massive player to have out there. His experience is second to none and he'll be a calming influence, because the lads will need that, especially the young kids who don't know what to expect. Even for his age he gets around the pitch."
Jay Harris
Age: 25, Midfield Former clubs: Everton, Accrington Stanley, Chester
"Jay's like a Duracell battery! It will be a big day for Jay because the pitch is massive at Wembley and it's energy sapping. But if anyone can run around that pitch, Jay Harris can. You always get an eight or a nine out of ten from Jay."
Joe Clarke
Age: 24, Midfield Former clubs: Darlington
"Clarkey's done very, very well. He's taken his chance and work really hard last year to get a contract. He will be one of those lads that will need guidance on the day because he's a very excitable character."
Kevin Thornton
Age: 26, Midfield Former clubs: Coventry City, Brighton, Northampton Town
"Bagpuss is Kev's pet name and he's done very, very well. It's not so long ago that he was in the treatment room with me. We picked him up, dusted him down and got him going and now look at him. He deserves his place in the team."
Johnny Hunt
Age: 22, Midfield
"For me he's been brilliant this season. He's been played here, there and everywhere and always done a job. He's probably been one of our better players this season in my eyes and I've told him that."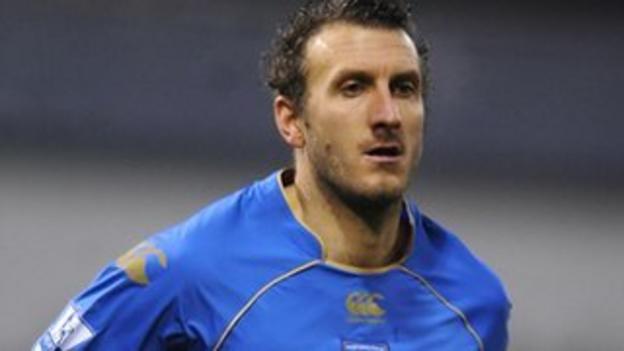 Glen Little
Age: 37, Midfield Former clubs: Burnley, Reading, Portsmouth, Sheffield United
"Blakey's never played at Wembley. I don't know if the creature's legs will take Wembley. He's probably better sitting with me in the stands"
Adrian Cieslewicz
Age: 22, Forward Former clubs: Manchester City
"The big pitch at Wembley could really suit him. He's lightning quick, has got all the ability in the world but just needs to put it into practice a little bit more consistently."
Nick Rushton
Age: 21, Forward
"He's come in and done what's been asked of him and has scored a few goals. He's still very raw and got lots to learn but he wants to learn and that's the best thing."
Jay Colbeck
Age: 19, Forward
"Jay's nickname is Goldie because he never seems to do anything wrong. He's got great ability and can really find a pass."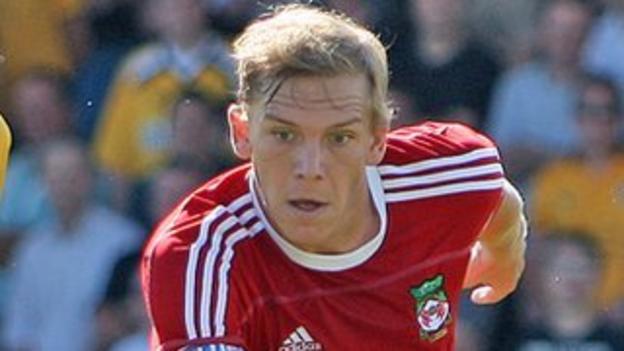 Danny Wright
Age: 28, Forward Former clubs: Histon, Cambridge United
"Danny, or The Brute as he's known, is a great lad on and off the pitch and deserves his chance to play at Wembley. He's vital for us because he's big and he's strong. He'll be difficult to play against."
Brett Ormerod
Age: 36, Forward Former clubs: Accrington Stanley, Southampton, Preston, Blackpool
"Scored the winner for Blackpool to send them up [in the 2010 Championship play-off final against Cardiff] so he's going to have a lot of experience to take onto the pitch and to help the young lads."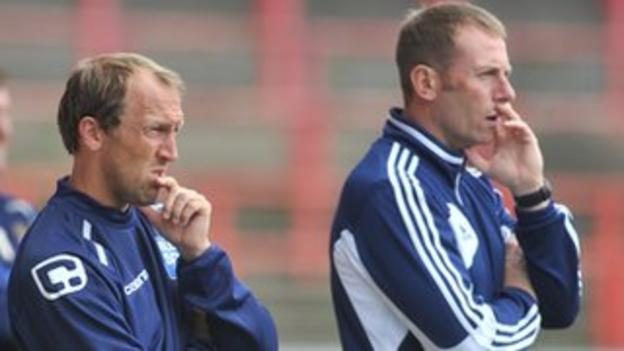 Andy Morrell
Age: 36, Forward and Player-manager Former clubs: Newcastle Blue Star, Coventry City, Blackpool, Bury
"Mozza's a great guy and the lads all love him. He works hard and loves everything about the club and I'm absolutely made up for him that he's going to be a gaffer at Wembley."
Mark Creighton
Age: 31, Defender Former clubs: Kidderminster Harriers, Oxford United
"The final's come too soon for me and also I wouldn't want to come back and maybe take someone's place on the bench as that wouldn't be fair on the lads that have played all season. There's no way you can describe the feeling that it gives you to win at Wembley but I've lost there as well. I know which one I'd rather experience."
Mark Creighton was talking to BBC Wales Sport's Aled Williams.