Dunfermline pin survival hopes on new fan funding
Last updated on .From the section Football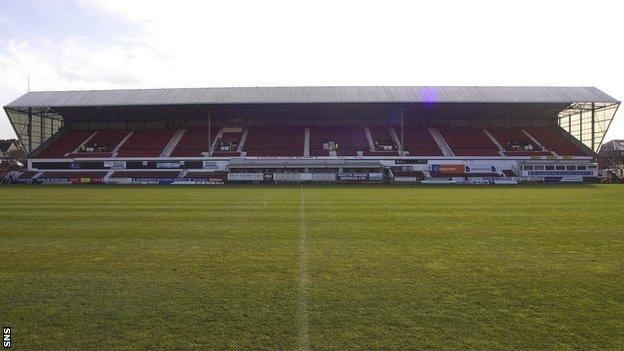 Financially-troubled Dunfermline say a "number of fans have expressed an interest in making substantial investments in the club".
And the Fife club insist a supporter-led model for ownership will be pursued, with present owner Gavin Masterton holding no shares.
This comes after a failed bid from fans' consortium The Pars Community to buy Masterton out.
Dunfermline face a winding-up order for £134,000 in unpaid tax.
A steering group, headed by East End Park hero Jim Leishman, has been seeking a solution to the club's parlous condition.
And the latest statement from Dunfermline reveals that the "current board are sufficiently comfortable with the proposals put forward by the steering group to allow due diligence to commence on 18 March".
On Friday, Dunfermline said The Pars Community [TPC] was "unable or unwilling to demonstrate" that it had the funds to complete a buy-out, with the fans' organisation saying it was "extremely upset at the outcome of its endeavours".
The Scottish First Division outfit has struggled to pay its players on time this season and manager Jim Jefferies has expressed fears that Saturday's visit to local rivals Raith Rovers could be the club's last outing.
TPC want Masterton, who is owed a large portion of the club's £8.5m debt, to stand aside.
Masterton, a former managing director of the Bank of Scotland, had hoped to raise £300,000 to £500,000 through a new share issue.
He stood down from the board but remains majority shareholder at East End Park, with the stadium included in his assets.
Dunfermline say TPC initially proposed "CHL [Charlestown Holdings Limited, owned by Masterton] and Masterton's shareholding in the club reducing to 10% in return for an investment of £500,000 of which £250,000 was to be underwritten by a group of named individuals and £250,000 was to be raised from supporters".
On top of that, it sought providers of loans to the club to write them down by 60%.
Further talks, claim Dunfermline, sought CHL to reduce its shareholding to zero and for the lenders to take an even greater hit than the 60%.
TPC states that it wants Dunfermline "to move from a model where wealthy or apparently wealthy men and their families run the club and then either pass away, lose interest or lose their money, to a supporters-run model that is becoming increasingly common throughout Britain and on the continent".
Although discussions have ended, the fans' group says it "will not rest" until it achieves that objective.