Arsene Wenger: Clubs must punish racism or risk ban
Last updated on .From the section Football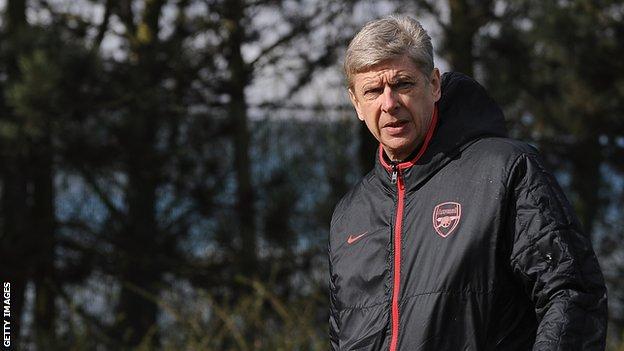 Arsene Wenger has suggested banning clubs who fail to punish racist fans, but said players should not walk off the pitch.
"If you walk off, we have no game anymore," the Arsenal manager said.
"When losing, anybody could start racist chants. To ban them, or even to ban the clubs that do not punish their racist fans, is a better answer."
The debate regarding how to combat racism in football has been revisited after accusations towards Inter Milan supporters at the San Siro.
Inter have already been fined £43,000 (50,000 euros) by Serie A officials this season after their fans were found guilty of racially abusing AC Milan pair Mario Balotelli and Sulley Muntari in the Milan derby last month.
A friendly between AC Milan and Italian lower division club Pro Patria was suspended on 3 January after players walked off because of racist chants.
Uefa says it is aware of the reports of racist behaviour during the Inter and Spurs game, but will wait for the match report before deciding if there is a case to answer under their disciplinary procedures.
Tottenham goalkeeper Brad Friedel played in the match against Inter Milan but did not hear the alleged chants.
He said: "[Uefa] can do what they are doing and set up campaigns and things of this nature, but until certain countries want to set up their infrastructure and school systems, and they go inside the parents' heads and the households, things will not change."
However, Lord Herman Ouseley, chair of the anti-racism organisation Kick It Out, thinks Uefa is not doing enough.
"This trend of black players representing English clubs abroad being roundly abused in this way, needs to be dealt with," said Ouseley.
"Again, it appears that the match officials have failed in their duty to protect the players under their watch."
And Football Association chairman David Bernstein said it was "unacceptable and concerning that clubs in Europe have had to endure recurrences of abuse this season".
He added: "I am sure Uefa will take appropriate action but it also reminds us of the need to work collectively across national and international football authorities to deal with this serious issue, as we are also doing in this country."