Rio Ferdinand: Loyalty still in style for England defender
Last updated on .From the section Football110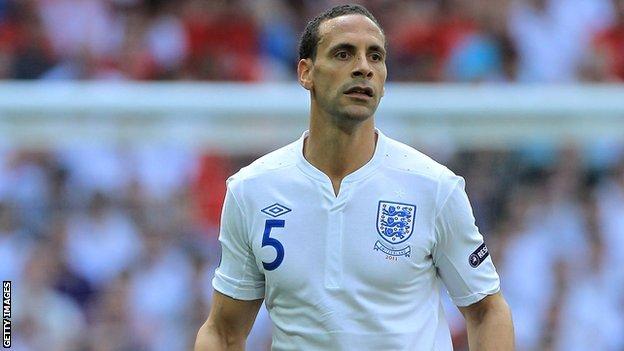 Loyalty ain't what it used to be, at least in football. Just ask Mark Hughes. A week after signing for Bayern Munich in November 1987, Hughes played a European Championship qualifier and a German cup replay on the same day.
"We were two down against Borussia Moenchengladbach and I'd like to say I turned it round," said Hughes, whose Wales team lost 2-0 to Czechoslovakia earlier that day. "I didn't because I was hopelessly knackered. The other guy who came on was Karl-Heinz Rummenigge's younger brother. He scored two goals and we won."
In an age when international retirement has become the norm, such behaviour seems hopelessly and recklessly romantic.
Alan Shearer called it quits for England at the age of 29 because he wanted to "stay sharp and fit for Newcastle". Paul Scholes, arguably the finest English talent of his generation, stepped aside, also aged 29, because he "got fed up". Last year, Michael Carrick told England manager Roy Hodgson he didn't fancy warming the subs' bench.
Rio Ferdinand, like any footballer, wants to stay sharp and fit for as long as possible. Ferdinand, like any footballer, gets fed up. Ferdinand, like any footballer, doesn't fancy warming the subs' bench. But Ferdinand, unlike some footballers, has never stopped striving to play for his country.
Modern footballers are widely thought of to be proud, precious things, with some justification. When you're trousering a hundred grand a week and being feted by tens of thousands on the terraces and millions more on TV, you're liable to think you're more than a little bit important.
No wonder, then, that a modern trend is for footballers to walk away when on the end of a slight, whether that slight is real or imagined.
But Ferdinand's pride is of a different kind. Having suffered the slings and arrows of outrageous fortune - or, to use one of his favourite phrases, having been well and truly 'merked' - Ferdinand decided it was nobler to carry on fighting than it was to walk away.
When Hodgson picked John Terry and not Ferdinand for last year's European Championship, it looked like the Manchester United defender's international career was over. It was a snub that must have cut him to the quick, no matter that Terry was later cleared in court of racially abusing his brother Anton.
When Gary Cahill was ruled out of Hodgson's squad because of injury, 22-year-old Martin Kelly of Liverpool, with two minutes of international football to his name, was called up. When questioned about his contentious decision, Hodgson cited "footballing reasons".
Ferdinand's agent accused Hodgson of showing his mate "a total lack of respect". Ferdinand, after an initial fit of Twitter pique, said: "I'll be in the pub somewhere supporting England this summer! Love the lads!"
When Hodgson was reported to have told fellow passengers on the Tube that Ferdinand's England career was over last October, Ferdinand kept a dignified silence. Despite battling iffy knees and persistent niggles, Ferdinand went back to his club, pulled up his socks and got his head down.
The result was an upsurge in form that made it impossible for Hodgson not to pick him for England's World Cup qualifiers against San Marino and Montenegro. "It's a no brainer," said Hodgson, who also recalled West Brom goalkeeper Ben Foster, who retired from international football in 2011. "We need a good centre-half. It's not really much more complicated than that."
The cynics among us will find that difficult to believe. Had Terry not announced his own international retirement last September, after being fined and banned by the FA for the aforementioned abuse of Anton Ferdinand, Hodgson would have found himself on the horns of a bucking dilemma.
As it is, an injury to Phil Jagielka and a lack of first-team football for Joleon Lescott and Steven Caulker rather forced Hodgson's hand. Regardless of Ferdinand's solid form this season for the Premier League's runaway leaders, it would have been far more difficult for Hodgson to suck up his own pride and display his magnanimity had all potential options been open.
Ferdinand is not to everybody's taste. In the last couple of weeks alone he has further upset his detractors by clapping sarcastically in a referee's face and clobbering Chelsea's Fernando Torres. He was censured for neither incident, which annoyed his detractors even more.
There was also the failure to attend a drug test in 2003, which resulted in an eight-month ban. And the time he accidentally kicked a female steward in 2008. Not forgetting all those driving bans, which are sure to irritate the public when the car you're banned from driving is an Aston Martin. Or a Bentley. Or is pink.
So when some chap calling himself Fred P tweets that "I thought we'd moved on from arrogant, overpaid morons who think they should be guaranteed an England place", the sentiment can be understood, if not agreed with. Especially given that Ferdinand has set up his own charity in his spare time, while evidently Fred P spends his spare time berating footballers on Twitter.
Fred P, whoever he is, should be saluting Ferdinand for his indefatigability. For not walking away and having never stopped striving to play for his country. And for proving that, at least in some cases, loyalty is as modish as it was in Mark Hughes's day.