George Long: Sheffield United's future in safe hands
By Paul Fletcher
BBC Sport
Last updated on .From the section Football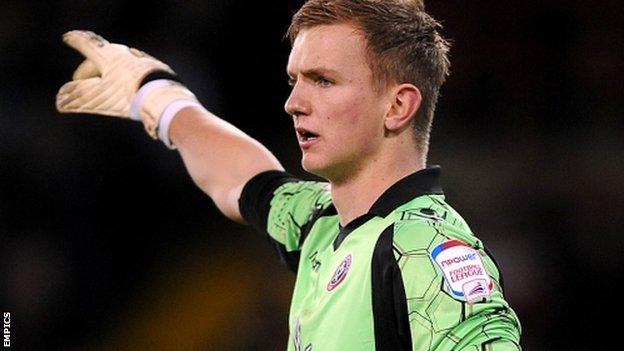 Sheffield United goalkeeper George Long has not done many interviews but there was scant sympathy on show from his team-mates and coaching staff as he answered questions on Thursday afternoon.
The 19-year-old was sitting at a wooden table, politely and thoughtfully discussing his breakthrough season, while Chris Morgan, once a mainstay of the Blades defence and now reserve coach, went to war with a nearby rowing machine.
Minutes earlier Morgan had been hammering a boxing speed ball, and concluded his workout by announcing that "fitness is a life sentence".
Every now and again a team-mate would walk past Long and yawn in exaggerated fashion, while at one point somebody shouted "still talking George?"
Throughout it all, the 6ft 3in youngster showed the sort of focus and single-mindedness that helped him to keep six straight clean sheets - more than 10 hours without conceding - during February and March.
It came to an unexpected and abrupt halt at Stevenage last weekend, when the Blades were thrashed 4-0 by a struggling club who sacked their manager just days later.
Nonetheless, Long's form has not gone unnoticed and, having been named Football League player of the month for October, he has now been awarded the League's young player award for February.
Back in October, Long grabbed his opportunity in commanding style following an injury to Mark Howard, with five clean sheets in six games shortly after coming into the team.
Manager Danny Wilson had initially thought the Sheffield-born youngster might be able to deputise for Howard on a short-term basis, but that a loan signing would have to be brought to the club.
And Wilson did indeed bring an experienced keeper to Bramall Lane, with former Wales international Danny Coyne joining in November - but Coyne is still waiting to make his debut for the Blades.
"George has been brilliant and his temperament unquestionable," Wilson told BBC Sport.
"We had him in last season for a spell and that was difficult for him, but this has been very different."
Wilson paints a vivid picture of the pressures facing a young player breaking into a team like United. They are coming into the first XI at a club intent on winning promotion, where every point is vital and the fate of the team will impact on the careers of senior players. There is little time for a keeper to settle in or find his feet and he will be targeted by the opposition.
"They have to come to the plate quickly - they are not young boys for long," added Wilson. "They have to wise up, but the lads in front of George are delighted with him and are giving him more plaudits than anybody."
Long grew up watching the Blades and first came to the club when he turned up for a Walk on Programme to coach young goalkeepers that the club still runs on a Friday evening. Several months later he signed as an under-nine and has been at the Blades ever since.
"I'd started out as a striker but by the age of eight I was in goal," Long told BBC Sport. "The club sent leaflets out to schools advertising their coaching programme and it fitted the bill for me."
He was in goal for the 2011 FA Youth Cup final, which was played over two legs and saw the Blades take on a Manchester United team that included the likes of current Juventus midfielder Paul Pogba.
Several of that Blades side - including Long, Harry Maguire, Callum McFadzean and Joe Ironside - have joined the first-team squad, while Blackburn paid more than £1m for Jordan Slew, who has recently been on loan at Rotherham.
Long is animated when he discusses that final, which the Blades lost 6-3 on aggregate, but recognises he has had to develop new elements to his game since breaking into the first team - how he communicates with his defence, for example, barking instructions at them even if some have made hundreds of league appearances.
"He is naturally a quiet boy," added Wilson. "Given his stature you might think he would be big and brash, but he is quite introverted and shy, although he is developing his verbal skills."
Long puts it this way: "You've just got to do it - they will expect to be told.
"In a sense you are all equals in the team. If someone needs information or is not doing something right, you've got to tell them.
"It is a vital part of your game. For example, you can sometimes stop a shot by talking to the defence, who then get a block in."
Wilson rates Long as one of the best shot-stoppers in the country, and is lavish in his praise of Long's bravery and enthusiasm. He sometimes has to tell Long to calm down in training to reduce the risk of picking up an injury.
Long himself would like to emulate Manchester City and England keeper Joe Hart, who started his career at lower-league Shrewsbury - "I like everything he does. I watch out for him on Match of the Day and his career would be a great path to follow" - but right now is focused solely on winning promotion.
The Blades are fourth in an extremely competitive League One, just four points off top spot and two above seventh. They play Brentford, currently second, in a televised game on Saturday.
Last year the Blades were beaten by Huddersfield in a play-off final at Wembley.
Long watched from the stands that day, as then Blades keeper Steve Simonsen missed the decisive penalty in a shoot-out.
This year it could be the teenager from Sheffield who plays a decisive role in how this season ends.
BBC Sport will be taking a closer look at stories from outside the Premier League before every weekend league programme in our Football League Friday features.