Sepp Blatter says Euro 2020 will lack heart and soul
Last updated on .From the section Football223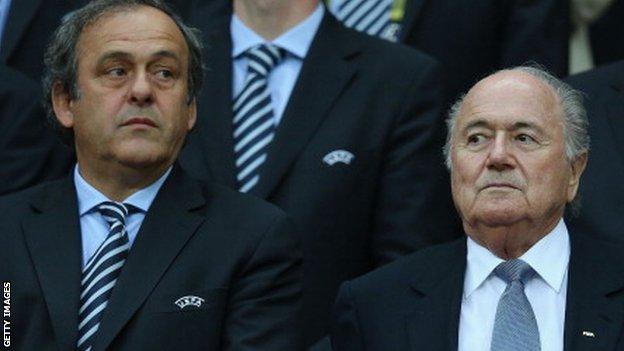 Fifa president Sepp Blatter says Uefa's plans to stage the 2020 European Championship at venues across Europe could lead to a soulless tournament.
In January, Uefa announced that 13 cities, each in a different country, will host the tournament, with one hosting both semi-finals and the final.
Wembley has bid to hold the final, with Cardiff, Dublin and Glasgow all expected to bid to host group matches.
"Such a Euro lacks heart and soul," Blatter told Germany's Kicker magazine.
"A tournament should be played in one country. That is how you create identity and euphoria.
"They have fragmented the 2020 tournament. So it is not a European Championship any more. It has to have a different name, I do not know what name."
Uefa boss Michel Platini has expressed his support for Istanbul to host the final if the Turkish city is unsuccessful in its Olympic bid.
Europe's governing body is eager to split the costs for the bigger tournament and celebrate the tournament's 60th anniversary across the continent.
Blatter, who has run Fifa since 1998, plans to retire in 2015 if the organisation is strong and stable, with former France international Platini seen as a possible successor.
"I do not know if he wants to (put himself forward)," said Blatter. "He has an idea about the future of Fifa which he has to explain to the continents at some point. But he has not decided yet."