Michael Laudrup expects Arsene Wenger to stay on at Arsenal
Last updated on .From the section Football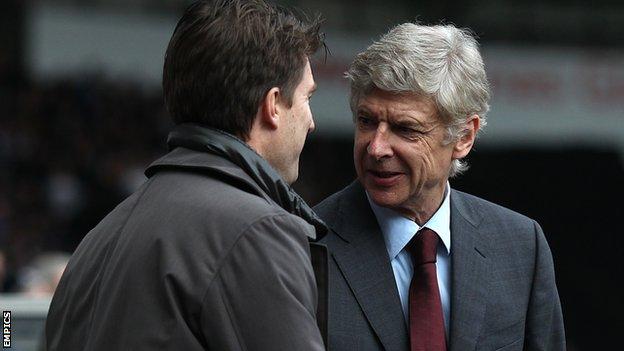 Swansea City manager Michael Laudrup fully expects Arsene Wenger to be in charge at Arsenal next season.
Although the Gunners have not won a trophy since 2005, Laudrup does not believe Wenger will leave the club at the end of the current campaign.
"What Arsene Wenger has achieved at Arsenal is great," Laudrup said.
"If the fans at the club want trophies then of course eight years is a long time.
"But I still think next season we will see Arsene Wenger still on the bench.
"When someone has been there so long, the good times and the bad times, it's because people are pleased with his job."
Wenger has been in charge at Arsenal for 17 years, but their last trophy came in the 2005 FA Cup final when they beat Manchester United on penalties.
Swansea, who won 2-0 in the Premier League at the Emirates Stadium in December, host Wenger's side on Saturday.
And Laudrup believes Arsenal cannot afford to drop points at the Liberty Stadium if they are to retain any hope of qualifying for next season's Champions League.
The Gunners are currently sit fifth in the table, five points adrift of fourth-placed Chelsea and seven off Tottenham in third.
Wenger's side have a game in hand on their north London rivals and Laudrup believes they cannot afford to give up any more ground.
"They are still five points behind fourth place in the Premier League and I think they will now be going for that, and they have to believe until the very end," he added.
"They will try to keep this confidence, Arsene Wenger knows after Saturday's game there is an international break, so it is very important for them.
"Chelsea are at home this weekend, so if they win and Arsenal don't win here, they would be eight points behind and with only nine games to go that may be too big a gap.
"So it is a very important game for them to keep alive the possibility of going into the Champions League next season."