Ashley Williams a top-four player, says Wales boss Chris Coleman
Last updated on .From the section Football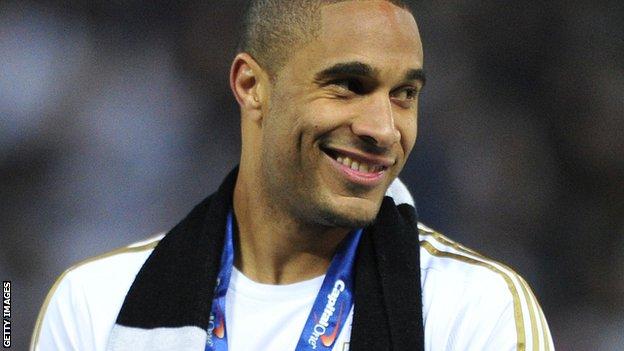 Wales boss Chris Coleman believes Swansea City defender Ashley Williams is good enough to play for one of the Premier League's top four sides.
Centre-half Williams has been linked with Arsenal and Liverpool.
Swansea manager Michael Laudrup admits he fears he could lose the Wales captain during the summer.
"If I was manager of a top-four club I'd have no qualms in looking at Ashley Williams and trying to sign him," Coleman said.
"I'm not surprised that he's being linked with big clubs [and] I'm not surprised he's done as well as he has done.
"He's a terrific defender and a great personality [and has] a great mentality towards football.
"He's playing in the best Swansea City team I've ever seen."
Liverpool's former Swansea boss Brendan Rodgers is a known admirer of Williams while Arsene Wenger is thought to be keen to bolster his defensive options.
Williams, who joined Swansea from Stockport County in 2008, extended his contract with the club until 2015 earlier this season.
The 28-year-old has formed a central defensive partnership with Chico Flores during Swansea's second season in the Premier League.
"I think he has had a great season," Swansea manager Laudrup said of Williams.
"He had a spell at the beginning where he had some games with us and the national side where he was unlucky.
"But it says even more about him that he came back and has played at a fantastic level. He and Chico have been a great combination.
"Chico has missed some games through injury and suspension, but they do great together and I would be very unhappy to lose that combination.
"But when a player is doing well it [a move] is a possibility. He has done great which may be why some bigger clubs want him.
"He has had a great season, but let's see what the player wants and take it from there. To talk about it now does not make sense."