Arsene Wenger warns Premier League after European failures
Last updated on .From the section Football741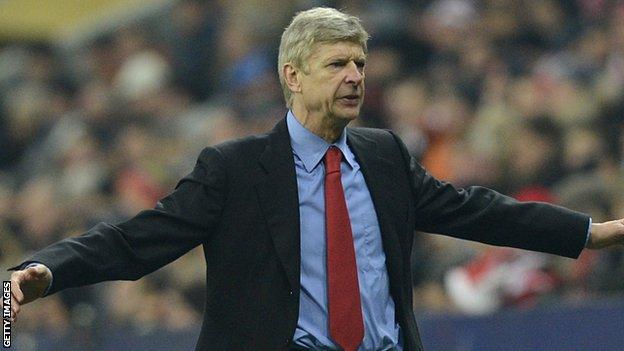 Arsenal boss Arsene Wenger says it is a "massive wake-up call" that no English clubs have reached the quarter-finals of the Champions League.
Bayern Munich's victory over the Gunners on the away goals rule on Wednesday means England will not have a team in the last eight for the first time since the 1995-96 season.
"It's a massive disappointment for English football," said Wenger.
"We accept the rest of European football has caught us."
Reigning Premier League champions Manchester City finished bottom of their group, which featured Real Madrid, Borussia Dortmund and Ajax, after failing to win any of their six matches.
Chelsea, who defeated Bayern Munich to win the Champions League last season, also failed to advance past the group stage, while Manchester United went out to Real Madrid in the last 16 stage.
Arsenal, overcame Bayern Munich 2-0 in Germany on Wednesday but missed out on a place in the quarter-finals on the away goals rule.
"We had Manchester City and United, Chelsea and Arsenal all out by the quarter-final," added Wenger.
"It's a long time since that happened. We have to take that into consideration in the way we think about the future of the Premier League."
However, Bayern boss Jupp Heynckes has tipped Premier League clubs to be back in the later stages of the competition again next season.
"I think comparisons like this don't bring much," said Heynckes. "We have had German teams knocked out early in previous years.
"I think Manchester United were unlucky to get knocked out and Arsenal showed what a quality team they are.
"You get cycles like that in football. I think the English teams will be back next year."
In his press conference on Thursday, England manager Roy Hodgson said he was disappointed there will be no English involvement in the quarter-finals.
He said: "I'm sad that both Manchester United and Arsenal went out the way they did because both did so well.
"It would have been nice to have English teams in the tournament and I don't see it as helping because the players are playing less.
"I like them playing at that high level of competition because if they can go out and do well against Real Madrid and Bayern Munich they should be capable of doing the same against international competition."
Arsenal's exit means they face an eighth season without silverware.
They produced a gutsy performance in Munich but left themselves with too much to do, despite goals by Olivier Giroud and Laurent Koscielny.
"I'm very proud of the performance of the team, but very disappointed for everybody who follows Arsenal that we couldn't get that third goal," Wenger continued.
"I think there was room to score, and when you look at the game you have many regrets for our first game."
There were echoes of Arsenal's last-16 when they lost the first leg 4-0 before winning the second 3-0.
"We have the same regrets as last year," said Wenger. "The first game we had nerves but second game we showed how good we are.
"My regret from first game is that we conceded a cheap goal in the last five minutes when we could lose 2-1 at home. You can see how important that goal was tonight."
The Gunners can now focus solely on their bid to finish in the top four and qualify for the Champions League again.
They have managed to do that every season since Wenger arrived in 1996 but currently sit fifth in the Premier League, five points behind fourth-place Chelsea with 10 games remaining.
"We played against one of the best teams in Europe. The spirit and the performance was there we had a great go," the Frenchman added.
"Positives, of course, were the performance and the spirit. The clean sheet and overall defensively we were very good. We lost some balls off some situations which frustrated at times.
"I am confident we will give everything to come back next season. Our young players [have] done very well, let's finish this season strongly."