Portugal Women 1-1 Wales Women
Last updated on .From the section Football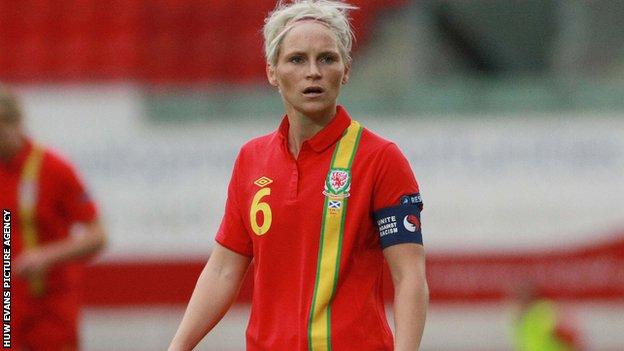 Wales Women's team lost on 3-1 on penalties to hosts Portugal in the final game of the Algarve Cup campaign to finish in 12th place.
Wales were held to a 1-1 draw at full-time at the Estadio Municipal Da Bela Vista in Parchal.
Midfielder Jess Fishlock opened the scoring with her second-half goal before Portugal's late equaliser sent the game to penalties.
Wales failed to qualify for the knockout stages of the tournament.
A new-look Wales side included seven Under-19 players and dominated Portugal for long periods of the game.
Wales lost 2-0 to Portugal in the tournament opener before they then beat Mexico 1-0 and drew 1-1 with Hungary in Group C.
Wales Women: Nicola Davies (Chelsea), Danielle Oates (Blackburn), Carys Hawkins (Sunnana SK), Kylie Davies (Chelsea), Lauren Price (Cardiff City FC), Hayley Ladd (Coventry), Sophie Ingle (Chelsea), Michelle Green (Cardiff City Ladies), Helen Ward (Chelsea), Jessica Fishlock (Seattle Reign FC), Angharad James (Bristol Academy)
Subs: Rhian Nokes (Cardiff City Ladies), Nicola Cousins (Cardiff City Ladies), Sarah Wiltshire (Watford), Lauren Hancock (Cardiff City FC), Megan Wynne (Watford), Natasha Harding (Bristol Academy), Shan Jones (Caernarfon),Amy Thrupp (PILCS FC), Rachel Hignett (Bristol Academy), Amy Wathan (Cardiff City FC)