AFC Bournemouth: Eddie Howe vows to trim Cherries squad
Last updated on .From the section Football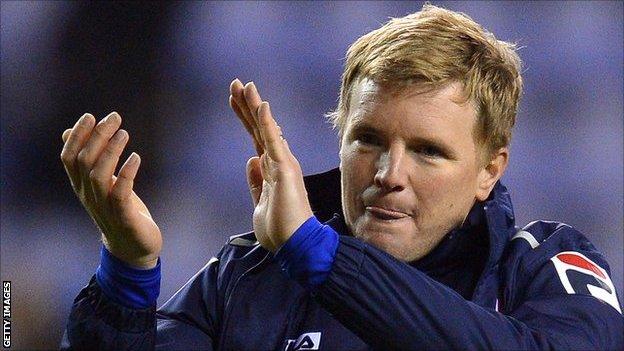 Bournemouth manager Eddie Howe has admitted he needs to trim his squad further following the release of former England goalkeeper David James.
And with savings being made off the pitch, Howe said he would have to do likewise among the playing staff.
"The wage bill is very high for this club so we need to re-adjust things and re-align things," he told BBC Solent.
Speaking after Tuesday's 1-0 victory at Stevenage, Howe added: "When we [Howe and Jason Tindall] came back, we said we had a big squad,
"It's been re-aligned off the pitch and we are no different, the club has to be streamlined and manageable, so we are in the process of doing that.
"We've got some difficult decisions ahead to make for the benefit of the club."
The Cherries have one of the largest squads in League One having invested heavily in new players over the past 12 month, thanks to wealthy Russian co-owner Maxim Demin.
But the club has now started to reduce the first-team group, beginning with veteran James.
The 42-year-old made 19 appearances in almost six months with the Dorset club, but had become third-choice,
Howe paid tribute to his contribution, saying: "David James has been excellent for us, I cannot speak highly enough of him.
"Unfortunately we've had to make some difficult calls.
"Financially we've had to re-adjust things, and re-align things at the club and this is is part of that. We thank David for everything that he's done for us and we wish him well in the future."