Rochdale: Keith Hill hopes to extend stay beyond season
Last updated on .From the section Football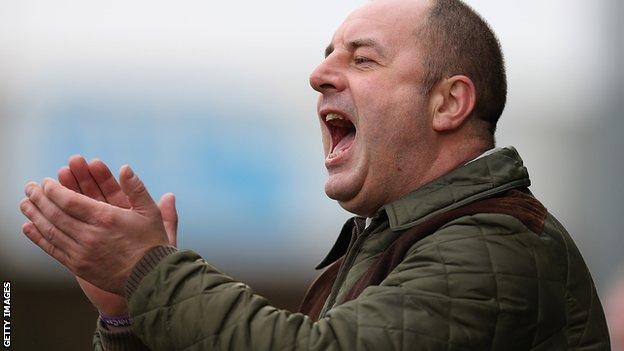 Keith Hill is hopeful of extending his second spell at Rochdale beyond the end of the current season.
"I would commit myself without looking for the next opportunity," he told BBC Radio Manchester.
"I've enjoyed my time, I'm quite demanding and got a lot of ambition but I'm planning for next season."
Hill added: "But it's got to be compatible with my needs as well or I will always be looking for an exit strategy and it's the same with the players.
"Unless they see an ambitious manager, or an ambitious board and ambition for themselves they'll always be looking for an exit."
The former Blackburn, Plymouth and Rochdale centre-back enjoyed a successful first spell as Dale manager, winning promotion to the third tier in 2010 and then equalled their best ever league finish.
Following that impressive run he moved to Championship side Barnsley with assistant David Flitcroft, but was sacked after 18 months following a poor run of form.
"If I'm honest the last time I was looking for an Championship opportunity," he added.
"There has got to be a stimulus from everybody. I've got to be stimulated with the desire for success and I'm trying to put that desire and bring that desire out of the players.
"I'll try and bring that desire out of the chairman and the board of directors so we can have a brighter future because we don't want to be staring at the trap door."