Brighton & Hove Albion letting season fade - Gus Poyet
Last updated on .From the section Football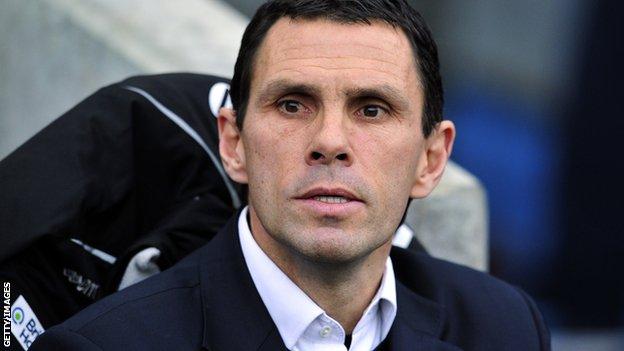 Brighton boss Gus Poyet says his team are letting their promotion push fade by wasting too many chances.
"The only way for Barnsley to score was something unbelievable or us to give it away - we did," Poyet told BBC Sussex.
"It's simple; start well, dominate, don't give anything away and take your chances. We're doing the total opposite and letting the season go away."
Despite suffering back-to-back defeats, the Seagulls sit seventh in the Championship only one point outside the play-offs.
Brighton now enter a crucial run of games with three of their next four matches at home, a spell which sees them take on promotion rivals Crystal Palace, Nottingham Forest and Leicester City.
"The whole effort of the whole season is going away all because of ourselves," Poyet continued.
"We had the chances to win, we needed to win and we cannot blame anyone except ourselves as a team.
"We didn't have the opportunities in four months playing away from home as we did against Barnsley and Bolton and that is the story of our season.
"We are where we are [in terms of injuries and suspensions].
"In normal conditions you'd have a couple of strikers on the bench to win the game for you but we cannot do that. The rest of the season's going to be fun."