Raith chairman critical of Celtic & Rangers colt proposals
Last updated on .From the section Football95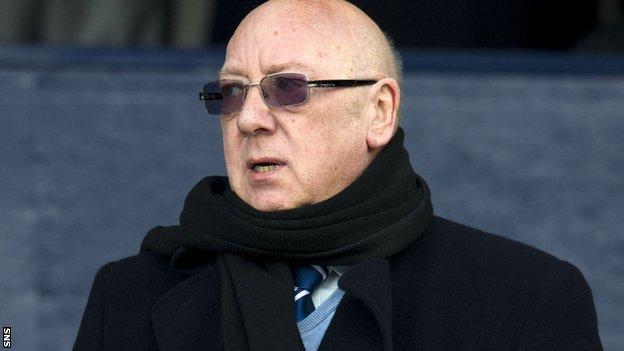 Raith Rovers chairman Turnbull Hutton believes the idea of Celtic and Rangers departing Scottish football and fielding colt teams is a "nonsense".
"Colt teams came up at a recent SFL meeting and it was quickly punted into the long grass," said Hutton.
Falkirk chairman Martin Ritchie also believes the proposal is "irresponsible".
Scottish Premier League teams are due to vote on a three division structure at a meeting on 15 April that will have 12 teams in each of the top two divisions and 18 teams in the third tier.
However, the latest proposal is for four divisions with 12 teams in each of the top two tiers and 10 sides in the bottom two, a set-up that would incorporate the two colt teams from the Old Firm.
Ritchie and St Mirren chairman Stewart Gilmour both appeared on BBC Scotland's Sportsound programme to criticise the colt proposals.
"I agree with what Martin and Stewart said that there should be a league for colt teams and get on with it," Hutton told BBC Scotland.
"This is a distraction, frankly. Scottish football never fails to amaze you. Colt teams were mooted way back in the Henry McLeish report, do you remember that one?
"At that time, it was teams of 10 with colt teams, which was overtaken by events.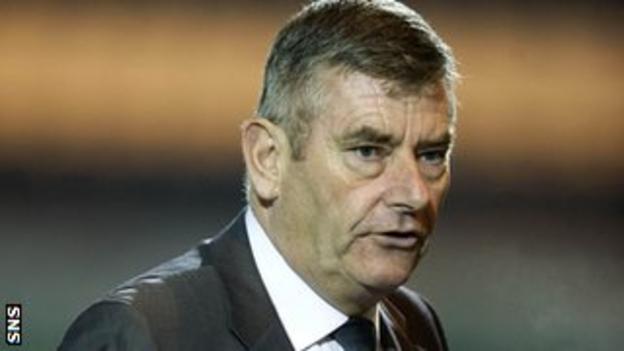 "I think it's bizarre that we're worrying about what happens when Rangers and Celtic depart the Scottish scene, but they've been going to depart the Scottish scene for the last decade. Where are they going to go? It's a nonsense, frankly."
Hutton also suggested that the new plans had only been put forward because the favoured format of three leagues of 12, 12 and 18 teams, proposed for next season, would mean that Rangers would remain in the third tier of Scottish football - even if the Ibrox club won the current Third Division title.
"It's a simple solution because there's pressure no the need for this two leagues of 10 at the bottom, where the proposal for the 12-12-18 was perfectly fine and it played to what supporters wanted in the third tier with home and away matches.
"But suddenly, someone wants to win a championship and move through - and they would need two teams."
Ritchie told BBC Scotland that the entire idea only served to detract from the core purpose of reconfiguring the game for the benefit of all.
"At this stage it's a total distraction from the key issue of reconstruction," he said.
"It's going to divide clubs and supporters and to introduce it at this stage of the debate is irresponsible.
"The best thing for the future of the Scottish game is to get through this reconstruction stage.
"Once we're through that we can start looking at the next thing.
"To suddenly put a new variable on the table that will divide clubs and supporters is putting the whole process into disarray."
Gilmour, also speaking on BBC Radio Scotland's Sportsound, was equally clear in his view.
"If there's to be colt teams, fine, but for everybody and there's a colt league," he said. "It's as simple as that. We've no desire for some clubs to have colt teams and others not."