SFL clubs asked to consider 'colt teams' from Celtic and Rangers

By Chris McLaughlin
Senior Football Reporter, BBC Scotland
Last updated on .From the section Football372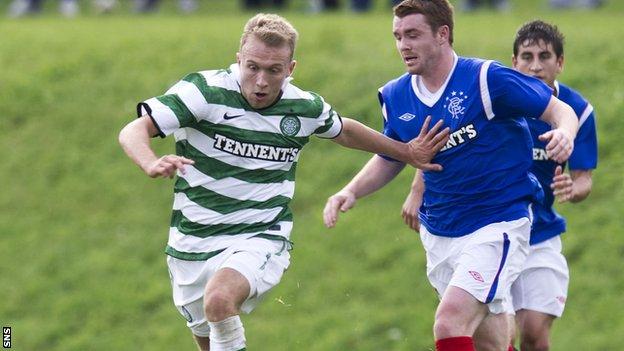 Scottish Football League clubs are being asked to consider allowing 'colt teams' from Celtic and Rangers to join a new four division set-up.
Chief executive David Longmuir suggests in a document sent to all 30 SFL outfits that the colts would operate separately from the 'parent' clubs.
He is influenced by the prospect of the Old Firm leaving Scotland behind.
And he says "both clubs have intimated their desire to be considered as part of this strategy".
Scottish Premier League teams are due to vote on a three division structure at a meeting on 15 April that will have 12 teams in each of the top two divisions and 18 teams in the third tier.
However, the latest proposal is for four divisions with 12 teams in each of the top two tiers and 10 sides in the bottom two.
In an extract from the document drafted by Longmuir, he says: "If both clubs were to leave without the legacy of a colt team and an annual financial settlement, then Scottish football as an industry would face significant drops in commercial, marketing and media investment.
"Our games may be more competitive with more clubs evenly matched, but that would come with a potential reduction in quality and resources.
"The legacy of a colt team would allow Scottish football to profit from the global success of the parent club or team, but also provide a level of domestic football which would be competitive, interesting and attractive to fans, sponsors and media alike.
"It would operate more along the lines of a community club.
"Only when the parent clubs moved out of Scotland, would the colt team then have the freedom to progress through the leagues unhindered, and based on their sporting success."
Longmuir is exploring the possibility of introducing the changes in time for next season and calls on SFL clubs to view his proposal "strategically and look at this as a significant opportunity".
In November, the SFL suggested the present four tiers in Scottish football be reorganised into three leagues of 16, 10 and 16 teams.
The SPL countered with proposals for two top divisions of 12, with a split into three leagues of eight after each team had met home and away, and a third division of 18.
However, some SFL clubs were worried an 18-team tier would create too many meaningless matches.
"By introducing two colt teams next season, we are taking advantage of the opportunity to introduce change which would generate increased interest and awareness," adds Longmuir.
"We would continue to progress the discussions on a pyramid structure below our bottom tier but not until we are fully satisfied with that structure and operational mechanism.
"Colt teams would also face the same risk as any other club in the division of possible play-off and relegation through the pyramid."
Longmuir points to Barcelona and Real Madrid operating such teams in Spain's lower leagues and both Milan teams having B sides in Italy.
He explains: "The colt team would be unable to be promoted to a division above if that colt teams 'parent' team were participating in that division, nor could they participate in any cup competition where the 'parent' club were participating."
The subject of Rangers and Celtic leaving Scotland has long been discussed but at present there is no existing escape route.
Any club playing matches in Scotland needs the blessing of the Scottish Football Association, Uefa are currently opposed to cross-border leagues and England's top-flight has rejected the notion of welcoming the Old Firm.