Reading owner gambles with club's Premier League survival
By Nabil Hassan
BBC South Sport
Last updated on .From the section Football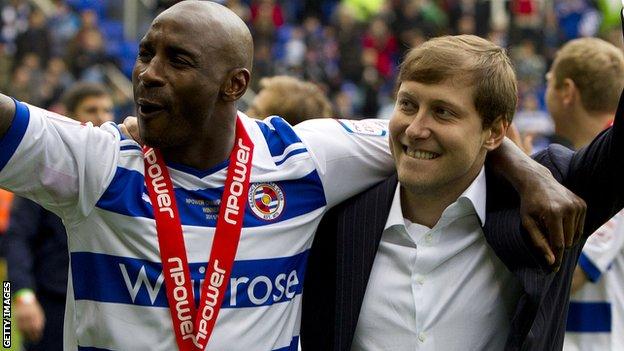 On the face of it, Reading's Russian owner Anton Zingarevich has it all.
Billionaire father, lingerie model wife and Premier League football club owner at 30 - be warned, envy is a terrible thing.
On Monday, he made his first major call as owner of the Berkshire outfit by sacking Brian McDermott. It is a decision that could cost the club he owns £60m. Still envious?
With the financial incentives of staying in the Premier League at an all-time high, the pressures on owners have never been bigger.
Stick or twist? That was the multi-million pound question facing Reading's owner. In the end, he decided to twist and sack a manager who arguably over-achieved in winning promotion to the Premier League last year.
Russian owner, controversial dismissal. Sound familiar?
Zingarevich arrived at the Madejski Stadium last year and immediately distanced himself from comparisons with his compatriot at Chelsea, Roman Abramovich.
He would be prudent and rational in running the Berkshire club, there would be no knee-jerk reactions or splashing of cash. Everything would be considered and calculated.
"We want to look after this club in a good manner. We see the opportunity and potential but have a responsibility," Zingarevich said last August.
He was born in Russia, schooled in Berkshire and studied business at City University London.
It was his love for business that attracted him to the club and geographically, he believes Reading is well placed to expand its supporter-base with transport links to Heathrow making the club an attractive prospect for foreign players and overseas investors.
"This is a business, you can't look at it any other way," he added on BBC South Today back in August.
A self-confessed 'football fanatic' he first approached former owner Sir John Madejski in January 2012 through business associate Chris Samuelson and eventually bought the club for £20m.
Madejski later received a £5m bonus following the club's surprise promotion to the Premier League.
Off the pitch, Zingarevich's impact has been considerable.
Plans are already in place to expand the training ground and increase capacity at the Madejski Stadium, while the owner has wasted no time in building links abroad, having recently announced a partnership with Turkish giants Galatasaray. A further partnership in India is likely to follow in the coming weeks.
But on the field, things are less secure. The team are currently next to bottom in the top flight, four points adrift of Aston Villa, who are 17th, immediately above the relegation places, with nine games to go. Nerves are now well and truly jangling.
Reading were active in the close season following promotion from the Championship last year; Danny Guthrie arrived from Newcastle, Pavel Pogrebnyak from Stuttgart, as well as Pierce Sweeney, Nicky Shorey, Chris Gunter, Adrian Mariappa and Garath McCleary.
Further signings followed in January with the arrival of Daniel Carrico, Hope Akpan, Stephen Kelly and Nick Blackman.
Despite the large number of new arrivals, less than £10m has been spent bolstering the squad since winning promotion. In contrast Southampton - who went up with the Royals - spent over £30m.
Some might argue that many of the new arrivals are young players with bright futures and therefore a shrewd investment.
Winger Jimmy Kebe put it another way in December, his blunt assessment that the Royals were a "Championship squad, playing Premier League football".
It is a statement with which former Reading captain and BBC pundit Adrian Williams agrees.
"McDermott won the Championship against all odds, but in all honesty he was fighting a losing battle with budgets," Williams said.
And after seeing his side booed off the pitch following a fifth successive defeat on Saturday, McDermott admitted as much himself.
"We should have spent more in the summer," he told BBC Radio Berkshire.
Despite the riches on offer for staying in the division, Zingarevich has been prudent in attempting to ensure their survival. Whether he has been too prudent remains to be seen.
"There have been a couple of examples of how things have been mismanaged (in the past)," Zingarevich told BBC South Today last year.
"You know if you do get into financial trouble then it can be harmful to everybody. It is really important to manage it in a prudent way."
He would not have too look too far for recent examples of how chasing the Premier League dream can leave clubs in serious financial distress, most notably Portsmouth.
But having gambled in changing manager so late in the season, Zingarevich now faces another crucial decision over who should replace McDermott.
Former Swindon boss Paolo Di Canio is favourite, followed by Roberto Di Matteo, who won the Champions League with Chelsea last season.
Reading could soon have an overseas manager to add to their foreign owner - changing times for the conservative club from the Royal county, but former Reading boss Mick Gooding has sounded a word of warning for the Russian.
"I'm just hoping Reading don't end up in a similar situation Wolves find themselves," Gooding told BBC Sport.
"They sacked their manager before the end of last season, had an interim manager and this season they are near the bottom of the Championship.
"It's a big decision for the new owner to make and it will be an even bigger decision replacing him."
It is a decision that could make or break Reading's season - and reveal exactly what type of owner Zingarevich intends to be in future.